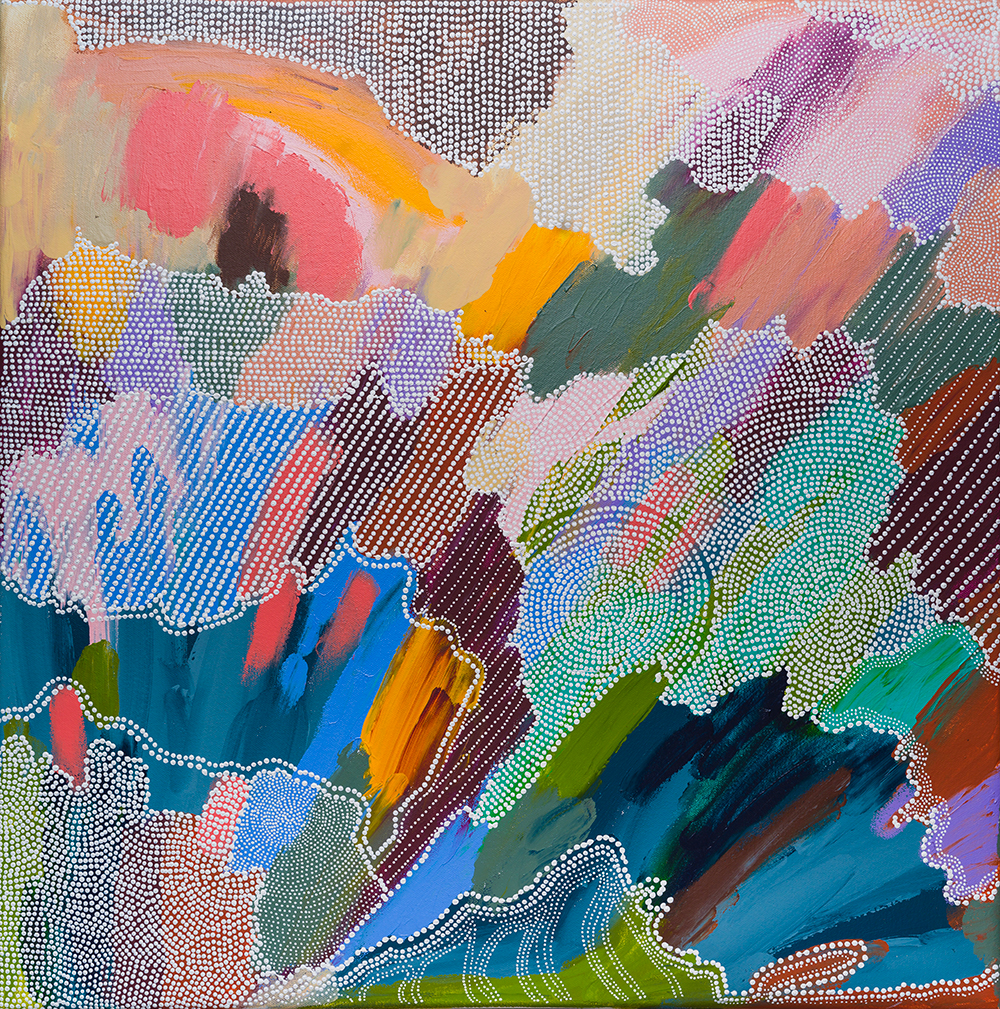 Exhibition
Ngawiya. Ngubadi (To Give With Love)
21 July - 1 October, Gallery, The Rodd
The Sidney Nolan Trust in partnership with Aboriginal Art UK is delighted to host the first-ever exhibition of Aboriginal Art at Sidney Nolan's former home, The Rodd.
The exhibition brings together artworks by over twenty highly regarded Aboriginal artists and includes new work by contemporary Aboriginal artists, Wiradjuri-British artist Jasmine Coe, and Gadigal artist Kate Constantine.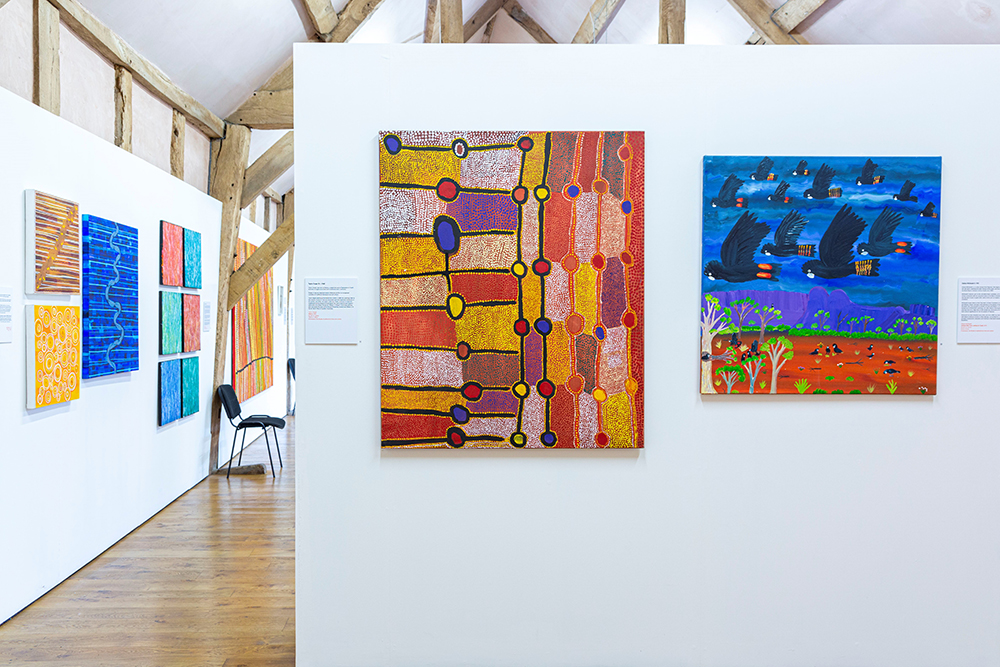 Sidney Nolan was a fourth-generation Australian of Irish descent and grew up in the St Kilda suburb of Melbourne. During the 1930s – 1940s, he was part of a close circle of visual artists, poets and writers who forged the path of Modernism in Australia. In 1946, supported by art patrons John and Sunday Reed, Nolan completed his iconic Ned Kelly series at their rural farmstead in Heidelberg, now the Heide Museum of Modern Art.
Whilst Nolan's paintings of the bush, hills, and desert interior, are often defined as a 're-visioning' of the Australian landscape, colonial-settler stories remained the foundation of his art. Through Ned Kelly, in the fateful journey of the explorers Burke and Wills and the shipwrecked Eliza Fraser, Nolan did little to confront the colonial narrative that dominated and continues to dominate this stolen land.
A deeper dive into Nolan's work however does reveal the artist's concern with Aboriginal people and culture and provides examples of where Nolan begins to address the 'repression and violence' against Aboriginal people. Aboriginal Hunt, painted in 1947, depicts an Aboriginal boy driven over a cliff as the sun sets. Three unidentifiable men on horseback are gathered at the cliff edge. We are left in no doubt about the wider narrative this image addresses.
The stencilled hands left by Aboriginal people in Carnarvon Gorge, Queensland became an important motif for Nolan. He understood these ancient artworks as part of an unbroken chain of human creativity that stretches through time. He first employed the motif in Kenneth MacMillan's 1961 adaptation of the ballet The Rite of Spring, blowing paint around hand stencils directly onto the dancer's costumes. He employed the motif again in 1981 for the Covent Garden production of the opera Samson et Dalila directed by Elijah Moshinsky. Moshinsky later recounted;
"This symbol, he explained to me, came to him from aboriginal rock paintings. It was, he said, the first expression of Man's self-awareness. For Nolan, it was a symbol of creativity in man, The Hand of God."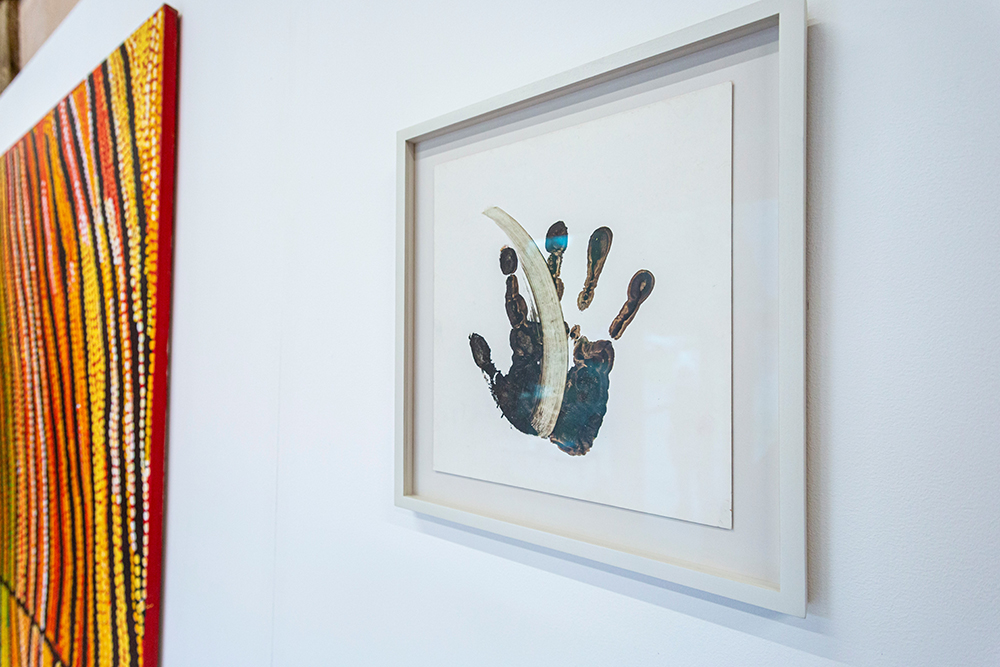 Sidney Nolan's Snake, 1970-72, is yet a further example of his acknowledgement of indigenous systems of knowledge. Snake comprises 1620 individual works on paper presented together as an enormous mural. Nolan's biographer Brian Adams described the work as the artist's 'homage to the aboriginal people on a truly vast scale.' Rainbow Serpent myths prevail in many Aboriginal Australian cultures and in some the Serpent is considered the creator of the universe.
In 1986/7, after Nolan had settled at The Rodd with his third wife Mary, he was focused on large spray paintings on canvas. During this phase, he created a large series of dramatic works in response to the 1982 Royal Commission into Aboriginal Deaths in Custody. Haunted figures emerge from the canvases, some complete with a noose around their necks. These late and little-known works by Nolan are powerful reminders of the ongoing injustices and violence perpetrated on Aboriginal people and remain as contemporary today as when they were first painted.
Antony Mottershead
Creative Producer
Sidney Nolan Trust