"These masters of reinvention have previously worked together on spectacular world-touring outdoor arts productions, including Furious Folly, For the Birds, Powerplant and Tree and Wood."
State of Alarm - Mark Anderson & Jony Easterby
Friday 15 & Saturday 16 October 6.30 pm - 8.30 pm, The Rodd
Following a short research residency at the Sidney Nolan Trust, artists Mark Anderson and Jony Easterby present new creative ideas in response to the 'state of alarm' ecologically, socially, and politically in the world today.
Showing work-in-progress, the outdoor artwork will blend sound, sculpture, video, fire and light to activate The Rodd and your imagination.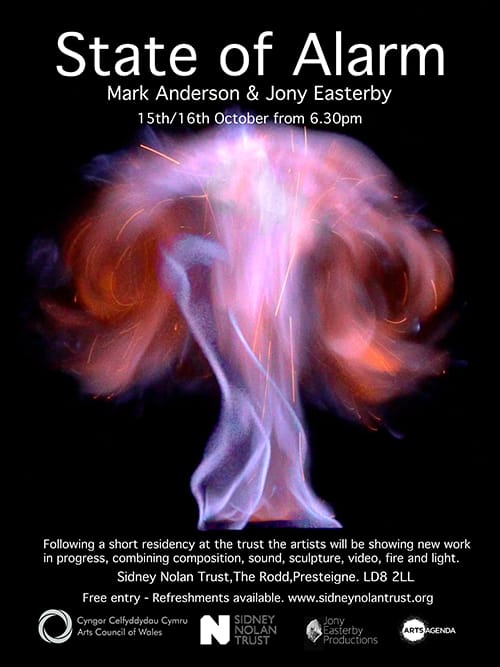 The artists' practice is tuned in the landscape of West Wales and they will be joined by three long-term collaborating artists Mathew Olden, Pippa Taylor, and Liam Walsh for a voyage into the unknown.
It is a rare opportunity to witness the beginnings of new artwork.
Join us for the performance in the grounds of The Rodd.
Free entry - To book your Free ticket please visit https://www.eventbrite.co.uk/e/state-of-alarm-mark-anderson-jony-easterby-tickets-178155807817
Refreshments will be available to purchase.
Date: Friday 15 & Saturday 16 October 2021
Time: 6.30 pm - 8.30 pm
Venue: The Rodd, Presteigne, LD8 2LL