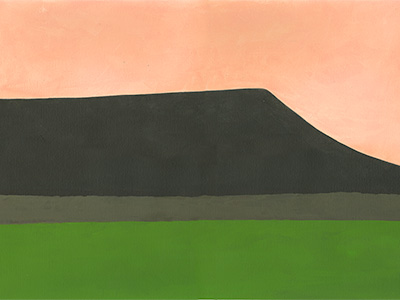 Exhibition
Philip Hughes
Thirty Years of Landscape
30 March - 20 May, Gallery, The Rodd
Philip Hughes - Thirty Years of Landscape
I was delighted when Philip accepted our invitation to present an exhibition here at Sidney Nolan's former home, The Rodd. The exhibition has grown from a conversation about the artist's recent work located in the nearby Black Mountains to encompass a larger number of drawings, paintings, photographs and sketchbooks from a 30-year period. As the scope of the exhibition has evolved it has granted us a limited survey of his landscape practice and presents something of the arc of the artist's journey.
In Philip's artwork, I saw a natural correlation, both with the landscapes that Sidney Nolan was drawn to and painted, as well as landscapes in which I have dwelt, enabling me to appreciate Philip's work in a very personal, as well as professional context. The exhibition unites landscapes from Scotland, Ireland's Atlantic fringe and the England Wales border with vast landscapes from Australia and Antarctica. United in this way they reveal the reoccurring themes - geology, ecology and archaeology – that are central to his understanding of the land.
Antony Mottershead, Creative Producer, Sidney Nolan Trust, 2023
Philip Hughes studied engineering at Cambridge University leading to an earlier career in Information Technology. Self-taught as an artist, his work is centred on land, its structure, and the intervention of man from ancient cultures until the present. Hughes has extensively walked the landscape of the British Isles tracing ancient tracks. His prime source is drawing directly in the landscape complimented by the use of maps and aerial images. Abstract works are continually made in parallel with works drawn from the land.
Shared landscapes
An Ariel View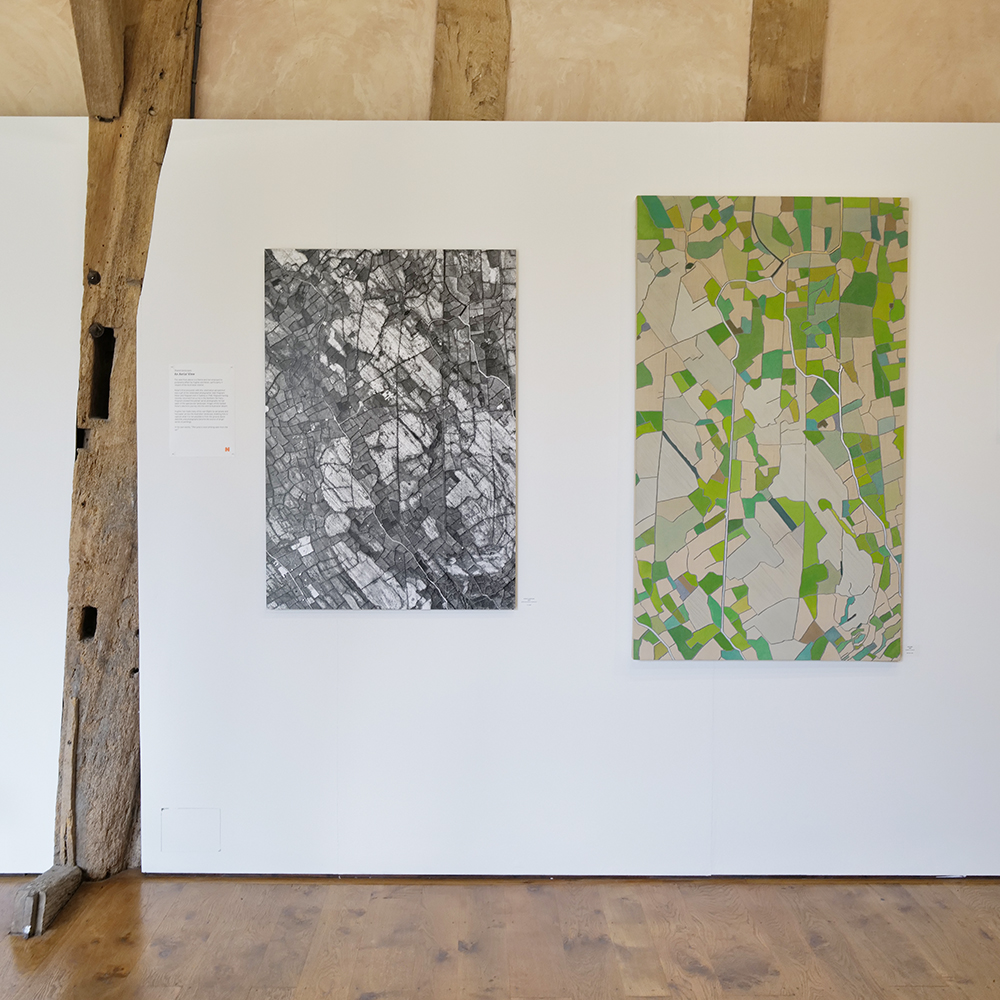 The view from above is a theme and tool employed to purposeful effect by Hughes and Nolan, particularly in respect of the Australian interior.
Nolan's first encounter with this 'alternative perspective' was a gift of the celebrated photographer Axel Poignant. Nolan and Poignant met in Sydney in 1948, Poignant having recently returned from a trip to the Northern Territory. Poignant showed the painter aerial photographs he had taken of the spectacular landscape, images which fuelled Nolan's desire to journey into the central Australian desert.
Hughes has made many of his own flights by aeroplane and helicopter across the Australian landscape, enabling him to capture what it is not possible to from the ground. Quick sketches and photographs become the source of larger series of paintings. In his own words, "The Land is most striking seen from the air."
Antarctica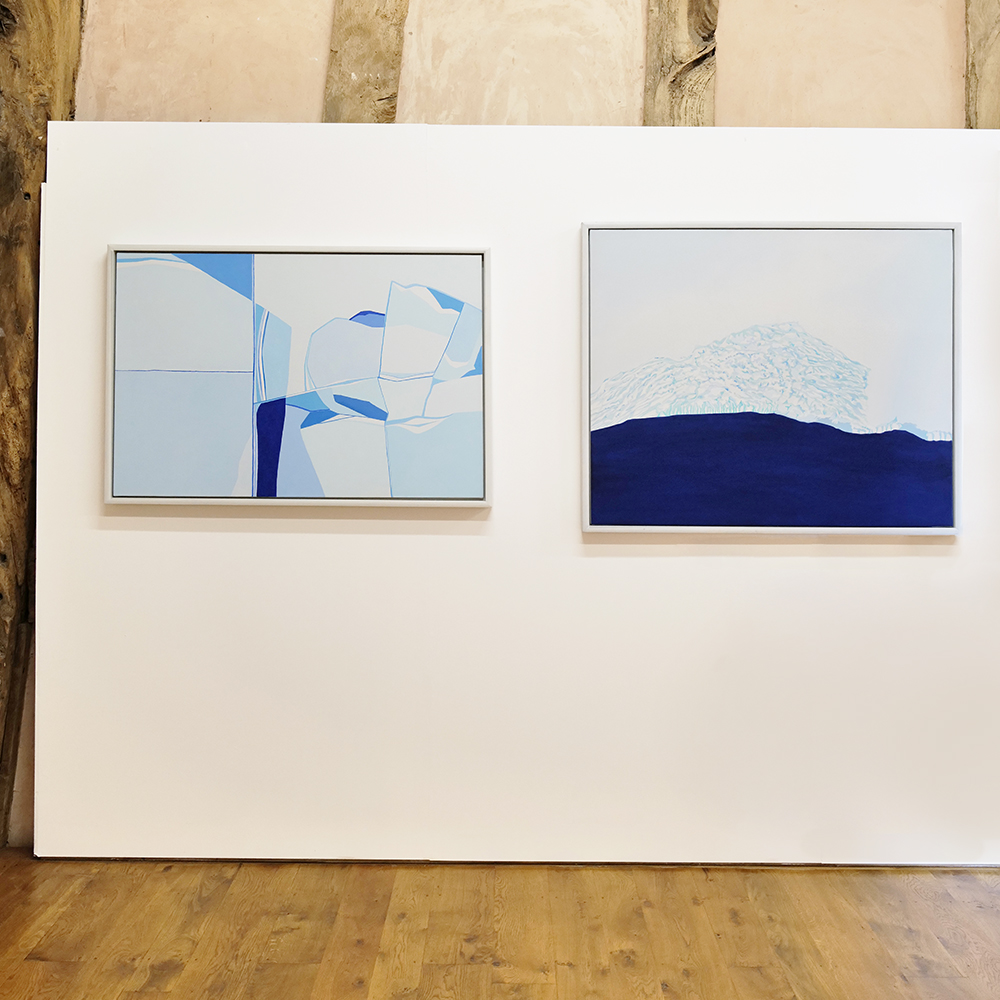 Of all the landscapes 'shared' by Hughes and Nolan, it is perhaps not surprising that Antarctica had a major influence on both artists.
In 2002 Hughes was awarded the Artists and Writers in Antarctica Fellowship with the British Antarctic Survey (BAS). This seven-week stay started with two weeks voyage from the Falkland Islands to the Rothera Research Station, the main BAS base. For five weeks he was centred at the base and from there made short trips to outposts used by the research scientists. Most notable was Sky Blu, far towards the South Pole where he camped and made a series of drawings. On returning to England, Hughes developed these into a series of large works that were subsequently exhibited in London, Cambridge and Sydney.
Nolan visited Antarctica in 1964 as part of a select group on a tour of US Naval and scientific bases. During the trip, he made small watercolour sketches and took photographs which he would use as inspiration to paint over sixty works at his Putney studio. Nolan's Antarctica works became some of his most successful and sought-after. Nolan and Hughes' artworks from Antarctica were first shown together at the Australian National University in 2012.
Herefordshire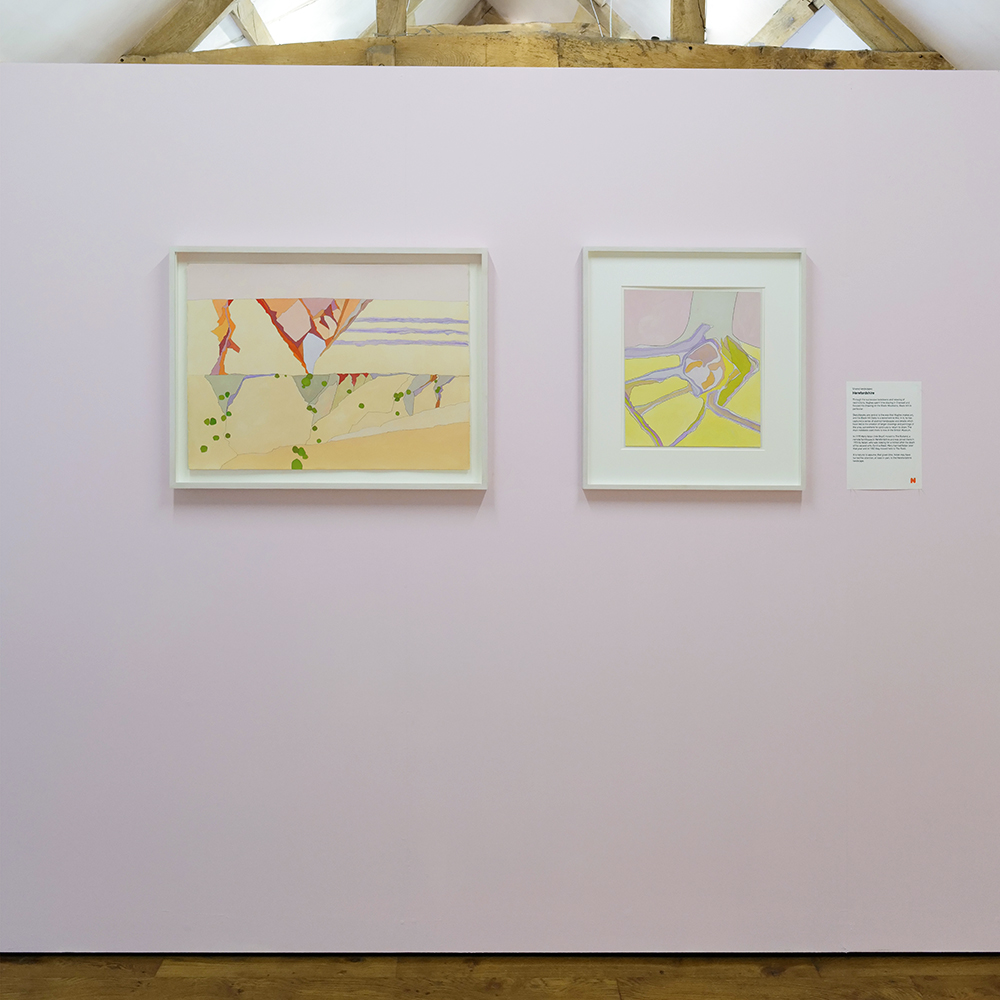 Through the successive lockdowns and relaxing of restrictions, Hughes spent time staying in Craswall and focused his drawing on the Black Mountains, Black Hill in particular.
Sketchbooks are central to the way that Hughes makes art, and his Black Hill Dairy is a testament to this. In it, he has captured a series of abstract landscapes and details which have led to the creation of larger drawings and paintings of the area, somewhere he continues to return to draw. The main notebook used there is now in the British Museum.
In 1975 Mary Nolan (née Boyd) moved to The Rutland, a remote farmhouse in Herefordshire and was joined there in 1978 by Nolan, who was looking for a retreat after the death of his second wife, Cynthia Reed. Mary married Nolan later that year and in 1982 they moved here to The Rodd.
It is natural to assume, that given time, Nolan may have turned his attention, at least in part, to the Herefordshire landscape.
Australia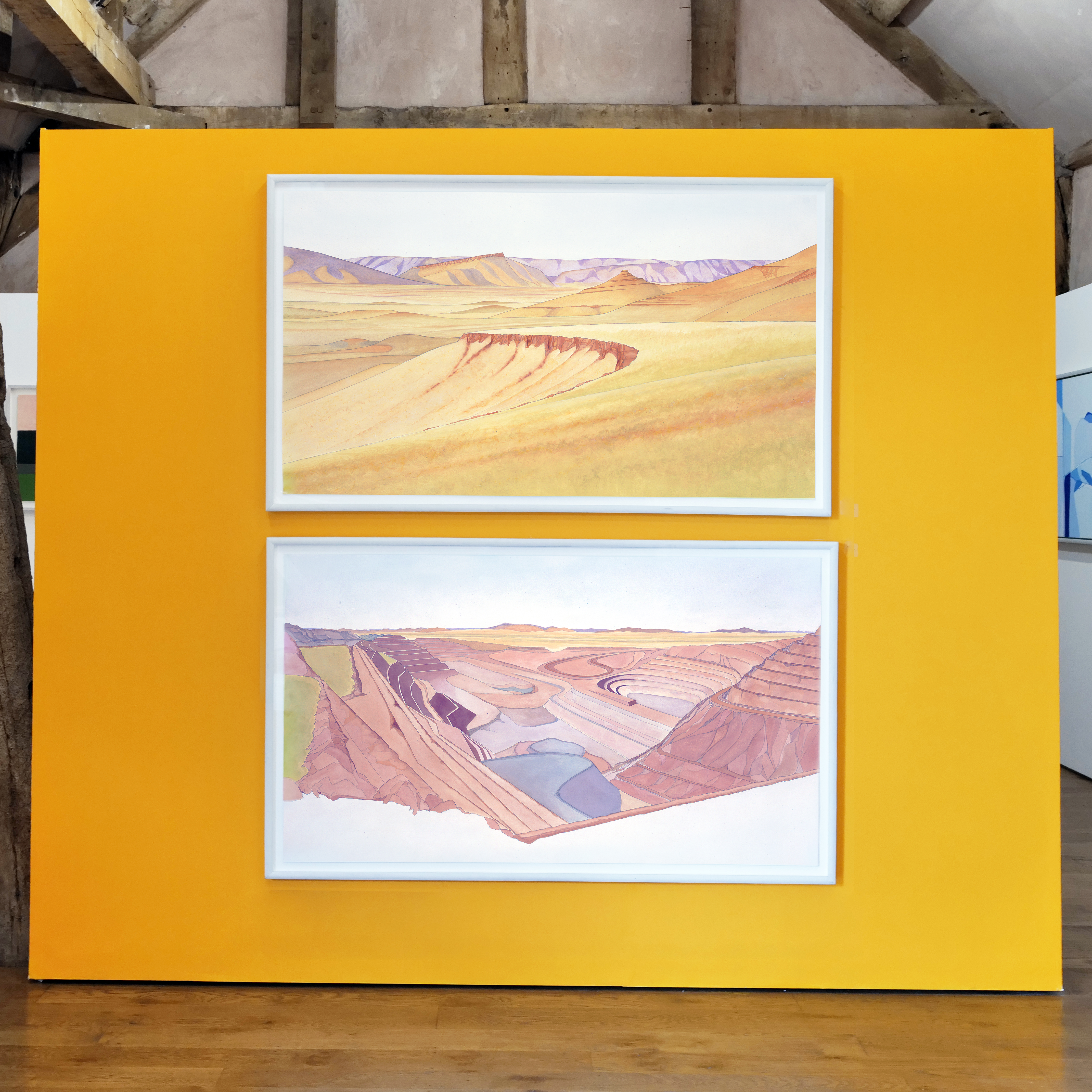 The Australian landscape defines Nolan's art and Nolan's art came to define the Australian landscape. Over a similar length of time, this otherworldly continent has also become a cornerstone of Hughes' art-making.
Hughes's parents emigrated to Australia when he was 16 years old. His younger sister travelled with them while Hughes completed school in England and subsequently attended Cambridge University. Over sixty years Hughes has travelled the Australian continent extensively, exploring the multitudes of topography, climate, flora and the interactions with and impacts of humans on the land. Hughes recently returned from another trip to the continent.
The contrast between this continent and the pastoral nature of Hughes's home in England is an important interplay and one Nolan understood well. After moving permanently to England in 1953 Nolan would return at least annually to Australia which remained central in his imagination. Nolan returned to the same themes, stories and ideas throughout his career and the Australian landscape sat at the centre of his orbit.
The Atlantic Fringe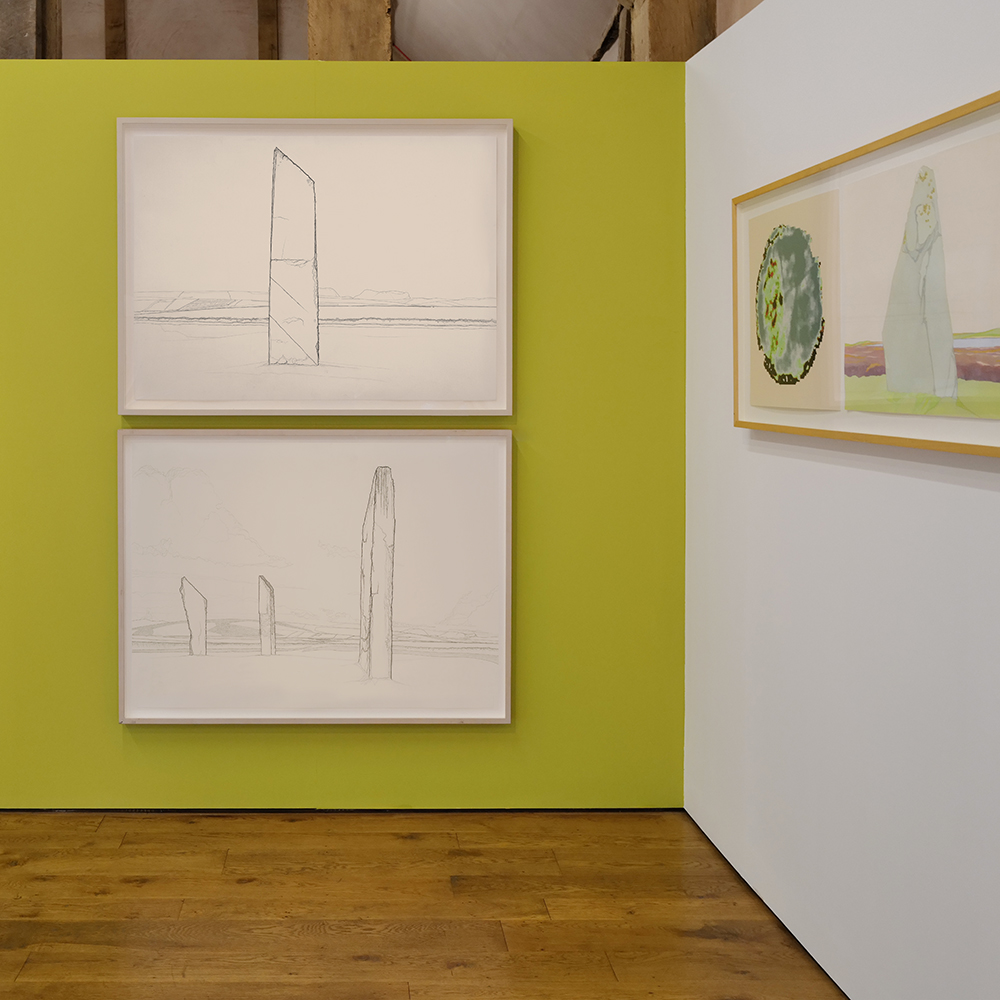 Drawn to the ancient and wild edges of the British Isles, Hughes has made numerous works that focus on the Atlantic fringe. The Arran Islands off Ireland's west coast and Scotland's Orkney Islands feature consistently. Both landscapes are imbued with a sense of deep time and are visually rich in archaeology.
Once again, parallels can be drawn with Nolan. As a sixth-generation Australian, Nolan's history is located in the rock-strewn landscapes of the Burren, County Clare. His familial home is the tiny village of Ballyvaughan, a sheltered harbour that served the three Islands of Inishmore, Inishmaan and Inisheer. Tracing his family heritage, Nolan made several visits to the West coast of Ireland later in life and created a series of abstract paintings called The Celtic Image.
Nolan's ties with the Orkney Islands are no less. Cynthia Reed, his second wife, could trace her family roots to the islands. In the letter she left Sidney before her suicide, she simply wrote 'off to the Orkneys'. Eliza Frazer, the shipwrecked heroine, of Nolan's famous Mrs Frazer paintings was also from the Orkney Islands and Nolan's paintings of the story were exhibited at the Pier Arts Centre, Stromness in 1992, Nolan's final exhibition before his death. Hughes Presented a major exhibition of his drawings of Orkney's ancient monoliths at the Pier Arts Centre in 2008.