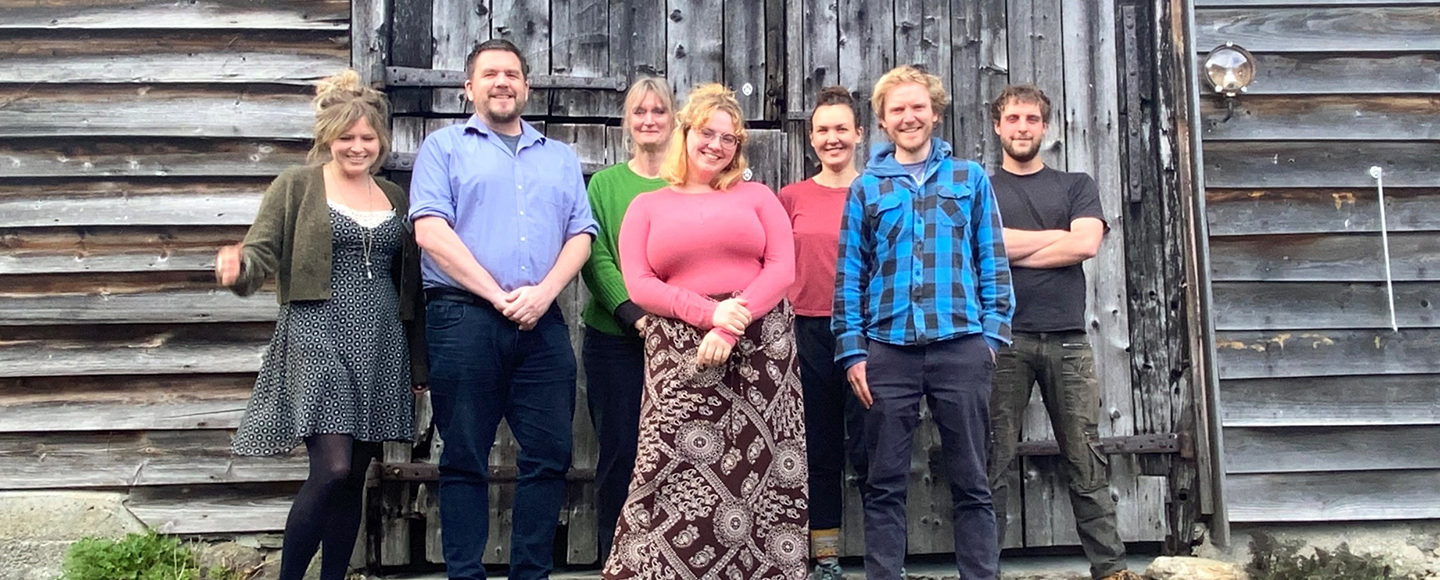 WHO WE ARE
The Trust is governed by a Board of Trustees and managed day to day by a small staff team. We are also fortunate to enjoy the support of an active team of volunteers.
Our Team
To contact any of the staff team please email: info@sidneynolantrust.org
Anna Brennand: Director

As former Chief Executive of the Ironbridge Gorge Museum Trust, a World Heritage Site in Shropshire, Anna has a wealth of experience in multi-million pound redevelopment projects and these projects have won many awards. A qualified accountant, Anna has previously worked at a senior level in a FTSE 100 firm of international moneybrokers, and also in the leisure and hospitality industry as well as central government. Most recently Anna has been CEO of a rural regeneration charity in north-east Scotland developing plans for an historic whisky distillery. Anna joined the Trust in February 2021.

Antony Mottershead: Creative Producer

Antony develops and manages our creative programmes, exhibitions, learning, and collections and archive.

He trained in Fine Art Photography and has worked in the arts & cultural sector for over 10 years. Previously he was Arts Development Officer for Orkney Islands Council, and helped develop Forestry England's national arts programme Forest Art Works. He is a Clore Emerging Leader and an Engage Cymru Council Member.

Charlie Minskip: Business Support Manager

Charlie supports the Sidney Nolan Trust across the areas of marketing and administration as well as managing our cottage reservations. He is originally from New Zealand and has combined his passion for travel with a varied and fruitful career. His work has included managing a professional theatre, international travel consultancy, Polytechnic lecturer, 3 ½ years onboard cruise ships, as well as owning a boutique wine bar with his wife.

Kiefer Whitlock: Estate Gardener & Groundsperson

Kiefer manages grounds and gardens, including all areas of maintenance work, as well as managing our team of gardening volunteers.

He studied film and photography at university and now combines his love for art and the natural world in his role here at The Rodd. For many years he has worked as the gardener and groundsman at multiple stately homes in the local area.
Board of Trustees
Prof Peter J Conradi FRSL is an academic and freelance writer. His books include the authorised biography of Dame Iris Murdoch and At the Bright Hem of God:Radnorshire Pastoral. He was a long-time Bleddfa Centre Trustee and for ten years edited The Transactions of the Radnorshire Society. He was elected Fellow of the Royal Society of Literature in 2009.
David Ferry RE  is an artist and educator, who studied at the Slade School, University College London. He is a multi-award-winning printmaker with many international exhibitions and works in important national museum collections. David Ferry is Emeritus Professor of Printmaking and Book Arts at the Cardiff Met University Wales, Hon Doctor of Arts and Honorary International Artist at the Federation University in Ballarat, Victoria, Australia. He was former Head of Fine Art at the Winchester School of Art and guest professor at the Long Island University in New York. He is currently the 13th President of the Royal Society of Painter/Printmakers in London, formed in 1880. In 2014 David was involved in a life-changing cycling accident, he retired from his academic positions. He established his own studio and has subsequently written and lectured on his experience of Post Traumatic Stress Disorder. He is currently researching Sir Sidney Nolan's use of unorthodox materials, for the Sidney Nolan Trust.
Alison Giles has worked in arts management, specialising in classical music, with organisations including The Sixteen, The Monteverdi Choir, The Tallis Scholars and Music at Oxford. Now resident in Wales, she produces Presteigne Festival and Brecon Baroque Festival and oversees their community projects. She also works as a consultant in arts and heritage fundraising.
George Littlejohn (Treasurer) is a qualified accountant and former journalist who has been an admirer of Sidney Nolan's work since his schooldays. He works in the City of London with a global professional body, is passionate about the arts, and splits his time between London, Powys (where he is vice-chair of Black Mountains College), and his native Scotland, where his small grandchildren live and paint.
Professor Peter Lloyd ARE is Dean, School of Art and Media at University of Central Lancashire, UK. Professor Lloyd graduated from the Royal College of Art in 2000 and is an elected council member of the Royal Society of Painter-Printmakers. Alongside his academic career, he has maintained his profile as a widely collected artist with work in national and international collections.
Ruth Lloyd is a freelance art, culture and heritage consultant based in Mid Wales where she also spent her childhood. Her specialism is bringing artists, communities and organisations together for interpretation and audience development purposes. Professional experience includes the V&A Museum as Residency and Display Co-ordinator; Project Manager for the Exhibition Road Cultural Group, Lead Co-ordinator for the National Arts and Education Network (Wales). Ruth trained in Fine Art and Textiles at Goldsmiths College, and gained an MA in Interpretation and Representation from Leicester University.
Lucy Trench (Chair) has worked in publishing and in museums, as a conservator, editor, writer and educator. She was Head of Interpretation at the Victoria and Albert Museum, then at the Science Museum. She has links with Herefordshire and with Australia.
Matthew Trustman trained as sociology teacher working in secondary education before leaving to pursue a commercial career in business development, sales and marketing including management consultancy in the public and private sectors, in the UK and overseas. After completing a post graduate masters degree in Dramatherapy Matthew went on to run theatre-based training workshops in the UK and overseas and then worked in schools as a dramatherapist, which he has continued in private practice. He joined the Board of the Bleddfa Centre in 2017, becoming Chair in 2020 and steering the Trust's merger with the Sidney Nolan Trust in 2023.
Honorary Positions
Lord Lipsey - President
Gria Shead - Honorary Fellow