Resident Artist
In 2021 Daniel MacCarthy is the Sidney Nolan Trust's Resident Artist
The Resident Artist scheme is a new pilot that seeks to provide an artist with an extended period of support and development through subsidised studio space and the support of the Trust and staff.
In contrast to short-term artist residences, the Resident Artist scheme is designed so that artists become more fully integrated with the work of the Trust and that both the artist and organisation benefits from this relationship.
Dan has already brought his extensive experience as a gallery/art technician to the Trust, supporting the development of our gallery space and future printmaking ambitions, as well as offering and debating ideas for our site and creative programmes. We anticipate that the pilot will culminate in an exhibition of Dan's work at The Rodd in 2022.
Return to this page to see more of Dan's work and what he's up to at The Rodd during the year.
Read a full interview with Dan below.
Interview: Dan MacCarthy
Dan MacCarthy is currently Resident Artist at the Sidney Nolan Trust. After a decade in London, the arrival of his baby son along with the pandemic brought about his return to Presteigne, close to where he grew up. The Trust's Creative Producer Antony Mottershead spoke to Dan at his Rodd studio about his work and aspirations for the rest of the year.
AM: Dan, tell us a bit about your background and the art that you make.
DM: As you mentioned I grew up not far from here, on the other side of the border in Herefordshire. I feel very connected to this landscape and increasingly it has become a starting point in my work; often as a backdrop to a scene worked from memory. It also appears as a kind of imagined space that captures the feeling I have of this landscape and my memories associated with it. My background in art also goes back to infancy; my Dad is a painter and from a long line of artists on the French side of our family. It's a background that has both helped and challenged me as I have tried to forge my own path. I drew a lot from an early age but after college, I studied History at Sussex University. This period of academic study increasingly seems to reappear in my work, informing subject matter and claiming its place as a formative influence. There is a political thread that runs through the work which I trace back to this time.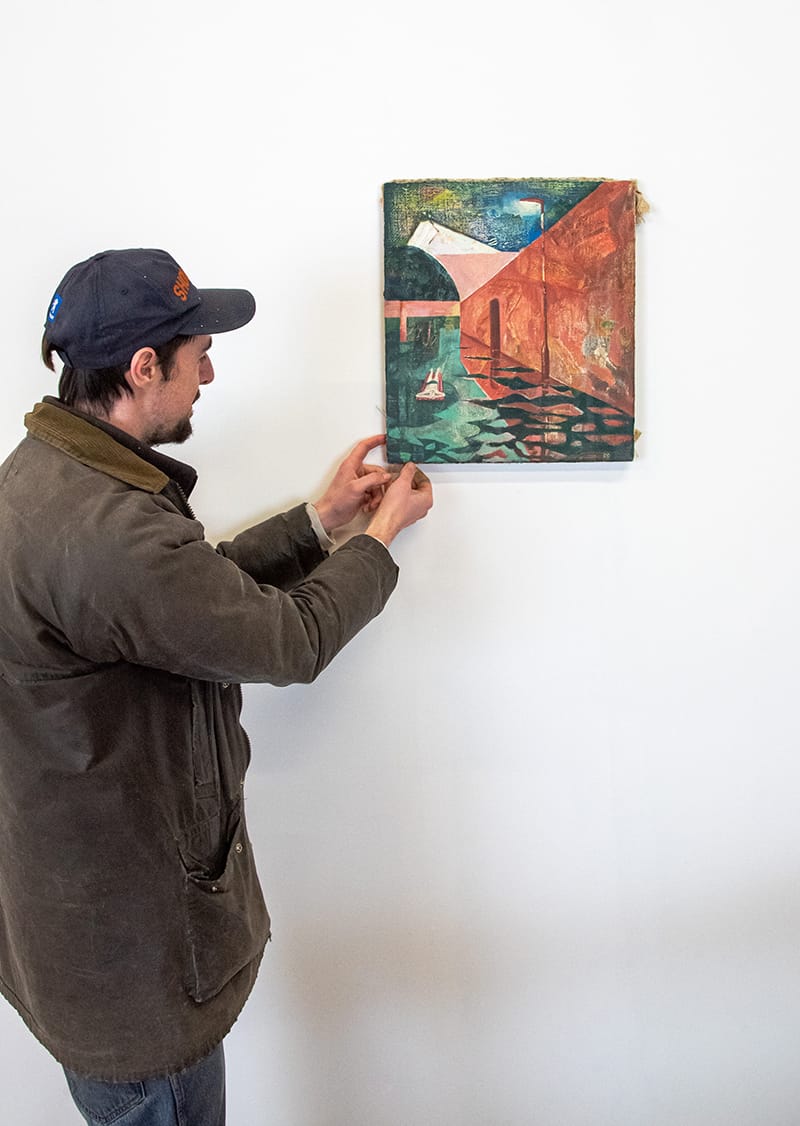 AM: You have studied at the Royal Drawing School and most recently at the alternative Painting School - Turps Banana. How have these very different platforms influenced your practice?
DM: The RDS was very timely for me. It was 2009 and I was tentatively pursuing my ambition to make paintings and living in a warehouse in Hackney. It was an exciting place to be, full of artists who seemed to really know what they were about. I had no idea what I was about, and was disturbed by the overwhelmingly conceptual scene around me. Concept driven sculpture, installation and performance ruled the roost and I was making landscape studies of the canal outside my window, much to everyone's bemusement. Although now I would say my paintings are fairly conceptual or allegorical and I am comfortable with those other scenes, back then what I needed was a safe space in which to go back to basics and learn to paint. Even then there was a noticeably hostile attitude to observational art in the major schools, so the Drawing School offered a valuable refuge in which to study under some great tutors and put aside the trickier question of what to paint.
Turps which was founded in 2012 came to my attention just as I was about to leave London after nearly 10 years. I had been slowly finding my way as an artist in the intervening period and only at the point of having moved back to Wales did I feel I'd found the right course at a time when I was ready to be surrounded by other painters. So I went back, moved onto a friend's narrow boat, and in between making my way up the canals from Limehouse to Hackney, I spent most days of the proceeding 6 months at the Turps Studios in Bermondsey. It proved to be short but sweet, thanks to the combined forces of the pandemic and the arrival of my son, but it fueled some rapid changes in my work and gave some good momentum.
AM: Explain briefly how you came to be the Resident Artist at the Sidney Nolan Trust.
DM: In 2019 I had offered my services as an art technician to the SNT and assisted in hanging some Nolan spray paintings in the gallery. Having spent many years hanging works on white wall galleries in London I was taken aback when hanging these works to find that they hung off the walls as the ancient timbers lurched dramatically inwards. When standing back the whole hang appeared lopsided due to the crazy angles of the beams around them. This led to my making a proposal to build some walls for the gallery at the Rodd, a conversation which recommenced during the first lockdown as the funding application had been accepted. The unusual pause in the SNTs normal activities afforded by successive lockdowns has been fortuitous in some ways in that it has enabled me to divide my time between constructing gallery walls and working in the residency studio. I was delighted when this evolved into my being the first recipient of the new year-long resident artist scheme.
AM: What are you currently working on?
DM: Unusually for me I have several large commissions I am just beginning. One is for a large painting to go in a flat in London. It's 2 metres long and based on a small woodcut I made several years ago of a man lying in some scrubland near a petrol station. The other commission is for several works for a large multinational hotel group who are building a new hotel in London. I am not accustomed to making works for clients like this and with a brief, but it makes a change from not knowing if a work will be sold or needs to be added to the ever-growing stack in the studio.
Alongside that, I am finishing off works that I began towards my final months at Turps, including a series of paintings depicting floods. This as a subject appeals to me as I have a great love of painting water and reflections, and the floods we have had in the area in recent years have given me plenty of imagery to work with. Also as I mentioned earlier, it recalls my study in history as an undergraduate in which I focused for my dissertation on the environment and human activity.
I am interested in the capacity of a painting to gradually reveal itself, first as a bucolic scene; is this a lake? Then it's a scene where something has gone wrong; is this a flooded landscape? Then there is a sense of our connectedness, the cause and effect; is that a car floating in the distance, are we implicated in this event...?
Some of these works are destined for my first solo show in Milan, which was due to open in March of last year at the Galera San Soda. The show is finally due to go ahead in the Autumn.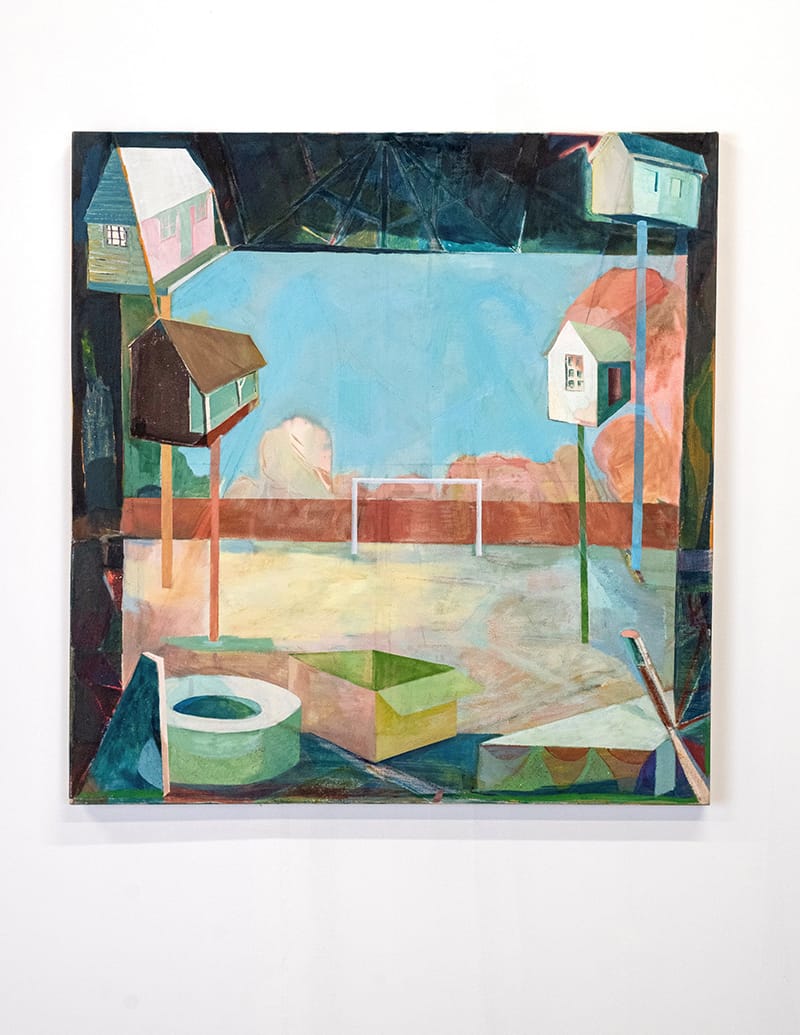 AM: Is there an artist or style that is currently influencing your work?
DM: My turps mentor Anne Ryan introduced me to the work of Charles Burchfield. He was a sort of 20th-century American Blake in some ways and something of a painter's painter, being not as well known as perhaps he should be. His oeuvre mostly consists of watercolours which really pop with this visionary almost hallucinogenic quality whilst also being quite folky. They feel really fresh as a way of approaching landscape painting.
Also, I'm currently enjoying the work of contemporary painters Nick Goss and Michael Armitage.
And then there's the old faves that are always in my head Munch, Ensor, Vuillard, Bonnard ...
Recently I've been getting into watching Painting with John, a new series by the American painter, actor and musician John Lurie, whose 90s series Fishing with John is something of a cult classic.
AM: Tell us about the most interesting or memorable artwork or project you have been involved with.
DM: I used to be really into painting murals until I realised I wasn't very good at securing commissions. I did a large flyover next to the tramway in Croydon in around 2015. The last big one I did was during a trip to Lebanon. I was staying with a friend in Beirut and managed to land a mural job in the amazing city of Aley that looks down on Beirut from Mount Lebanon. I was given an ancient-looking cherry picker operated by two wonderful refugees from Aleppo, and an enormous concrete flyover to paint something on. Unfortunately, I only had a few days in which to paint, but the joy of being able to make huge gestural marks, rolling out great abstract shapes on the hot concrete wall, which would only make sense once I descended and walked across the road, and being brought cold drinks and delicious things to eat by the locals on a dusty back street looking down on Beirut and the sea is something I'll never forget.
AM: What are your aspirations whilst you are working at the Trust?
DM: Having spent much of lockdown constructing large gallery walls at the Trust, my hope going forward is to make some large paintings and to see them on these walls. There is something very satisfying about that thought. I think making the walls has given me time and the appetite to make some ambitious paintings. It's a bit like stretching a canvas; a mechanical process that creates the potential for another kind of process, one less mechanical, and less easy to understand. Inspiration is hard to approach directly, so it's these mechanical processes that help us to creep up on that process and take it by surprise, and so attain a state of flow for a short while. Does that make sense!? My other big aspiration is to be shown how to use the amazing lithography facilities by David Ferry at the SNT and then to produce a run of prints.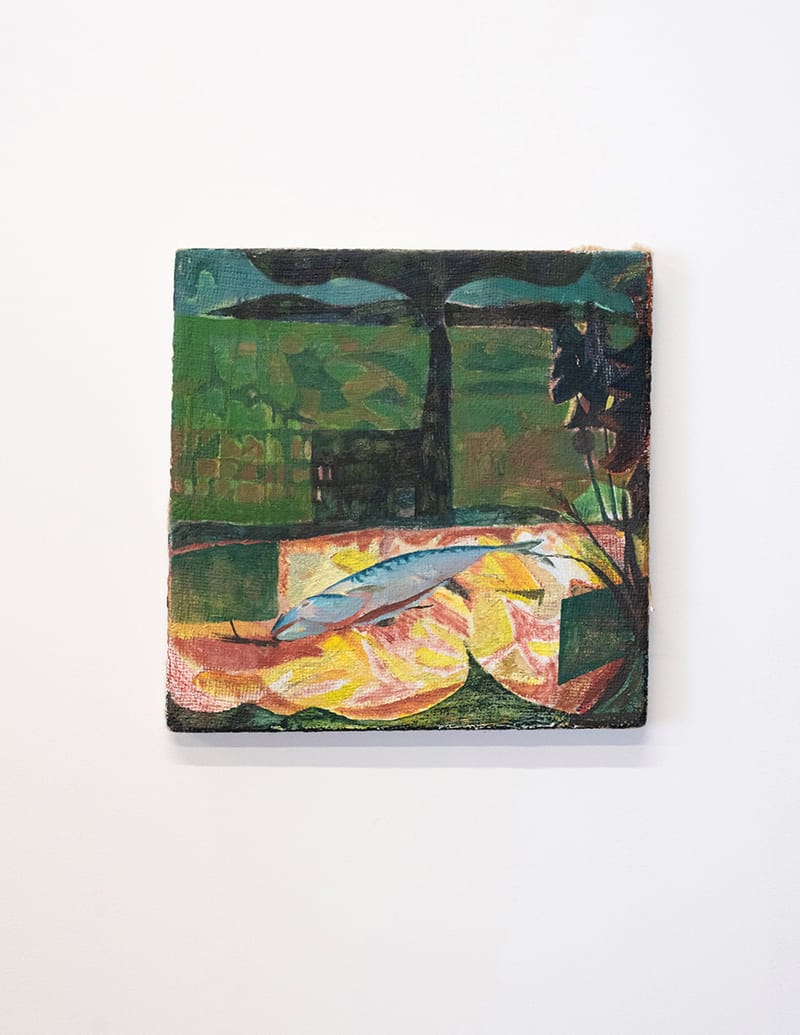 Photos: Joe Hedges