News
The latest news and updates from The Sidney Nolan Trust, including our digital newsletters, press releases and announcements.
For regular updates please join our mailing list here
Press Release 06/03/2023
The Sidney Nolan Trust to Merge with the Bleddfa Trust
The Trustees of the Sidney Nolan Trust are delighted to announce a merger with the Bleddfa Trust, bringing together two well-established arts organisations on the Welsh / English border.
Following detailed discussions, the Trustees of both organisations recognise that there is clear and evident synergy between the objectives of both Trusts and that the merger will ensure a future for both the core values of each and the legacy and buildings of the Bleddfa Trust.
The Chair of the Sidney Nolan Trust, Lucy Trench, welcomed the merger as follows:
'When he first set up the Sidney Nolan Trust in the early 1980s, Nolan's vision was to create a place where contemporary art could flourish alongside music, poetry and drama. On behalf of the Board of Trustees I am delighted that the two Trusts have combined forces so that we can continue to build on Nolan's extraordinary legacy to maintain a vibrant and thriving centre for the arts in both England and Wales.'
In a statement, Matthew Trustman, Chair of the Bleddfa Trust said:
'The Bleddfa Trust and the legacy of its founder, James Roose-Evans, are very precious and their contribution to the lives of many in the local and not so local community over some 50 years has been significant. However, the rising cost of maintaining the buildings and activities of the Trust now necessitate finding a radical way to secure the work and spirit of the Trust for the future. The Trustees are confident that the merger will enable a continuing, active presence for the arts in Bleddfa and will maintain and grow a valuable community resource. In merging with the Sidney Nolan Trust we are joining an organisation with a proven past track record, an ambitious vision for the future and our shared passion for and belief in the mental, physical and spiritual value of the arts for all to share. The merger with the Sidney Nolan Trust is an exciting development that will continue to nurture and support the creative spirit which has underpinned the work of the Bleddfa Trust over the course of its history.'
From 6 March 2023 the Sidney Nolan Trust will take over the ownership and running of the Bleddfa site and the combined organisation will be called the Sidney Nolan Trust. The importance of the work of the Bleddfa Trust and in particular its significance locally as a community resource in a sparsely populated area are fully recognised. The Sidney Nolan Trust will continue to offer a supportive and engaging facility for both the local and arts communities at Bleddfa and will work to retain the goodwill that the Bleddfa Trust has built up over many years. The merger will also allow the Sidney Nolan Trust to develop its ambitions for its main site at The Rodd, Presteigne, particularly in widening public access, developing artist residencies and in opportunities for lifelong learning across a broad spectrum of the arts.
The boards of both Trusts are excited by the possibilities arising from the merger and look forward to an ambitious, vibrant, artistic future for all at both The Rodd and Bleddfa.
Press enquiries: please contact Anna Brennand, Director at the Sidney Nolan Trust via info@sidneynolantrust.org
Digital Newsletter 24/02/23
2023 Programme
The Sidney Nolan Trust is excited to announce the details of our 2023 programme and we look forward to welcoming friends new and old back to The Rodd from Thursday 30 March.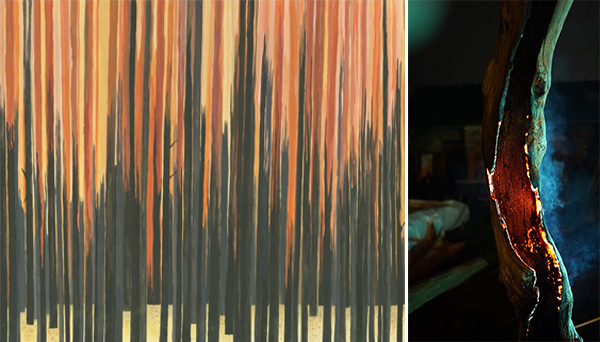 Images: Philp Hughes, Fire Kangeroo Island, 2020 & Jony Easterby
We are delighted to open this year's programme with a survey exhibition titled Thirty Years of Landscape by artist Philip Hughes. The exhibition unites landscapes from Scotland, from Ireland's Atlantic fringe and from the England Wales border, with vast landscapes from Australia and Antarctica. United in this way they reveal the reoccurring themes - geology, ecology and archaeology – that are central to his understanding the land.
In tandem, 2022 resident artist Jony Easterby presents new work alongside Pippa Taylor in a culmination of his year with the Trust. The exhibition celebrates their love of darkness and light with the title for the exhibition In Praise of Shadows borrowed directly from the classic essay on Japanese aesthetics by the Japanese author and novelist Jun'ichirō Tanizaki.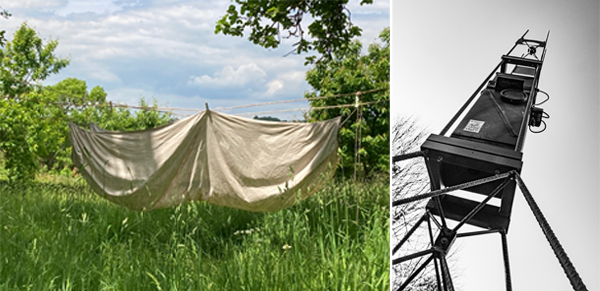 Images: Kate Harvey, Inside Out I, 2022. Rick Greswell, The Buzzer, 2022
Outdoors we present a new semi-permanent installation by Jony Easterby. Dead Standing draws on Australian bushfire narratives, drought resistant planting and the processes of regeneration. Also outdoors, we present sculpture and installations by artists Rick Greswell and Kate Harvey, both recent graduates of the HCA MA Fine Art Programme.
In May we will present an exhibition of work by Dean Cross as the Trust further develops its work with contemporary Australian artists. Cross was born and raised on Ngunnawal / Ngambri Country and a Worimi man through his paternal bloodline. Works will include his recent twin-channel video work, SOMETIMES I MISS THE APPLAUSE, commissioned by Heide Museum of Modern Art in tandem with the Museum's 2022 exhibition Sidney Nolan: Search for Paradise.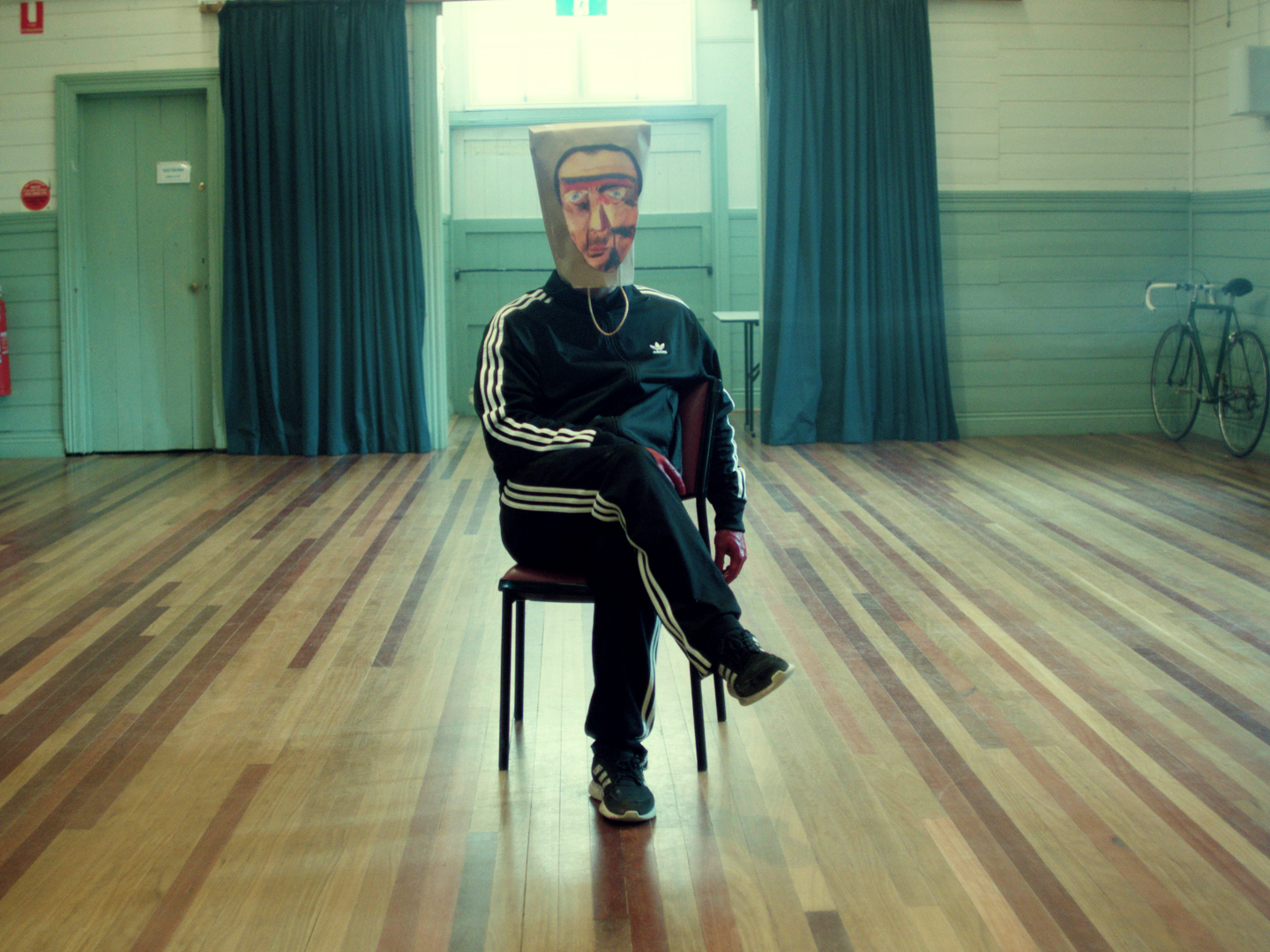 Image: Dean Cross, SOMETIMES I MISS THE APPLAUSE, 2022
This year the Trust is a new partner in the international photography and moving image competition Earth Photo. Prize-winners and shortlisted entries will be presented in beautiful large format outdoors at The Rodd during the summer. Earth Photo is now open for entries.
Finally, we are happy to be working with curator Patricia Brien to tour her exhibition Plant Communitas, which was first shown at Museum in the Park, Stroud, last year. The exhibition features a community of artists from diverse practices, places and different times. Together the artworks in the exhibition highlight the aliveness and presence of the plant kingdom and acknowledges that Western societies are increasingly focusing on the capacity of plants to nourish, nurture, heal and medicate.
For further details, related events and workshops visit our WHAT'S ON page.
News - 10/01/23
Sidney Nolan Trust - Call for Collection and Archive Volunteers
The Sidney Nolan Trust, near Presteigne, is looking to further grow its dedicated team of volunteers who are helping the Trust to organise and care for its extensive Sidney Nolan collection and archive. The Trust holds the world's biggest collection of artworks by the famous Australian painter, who lived and worked at The Rodd for the last ten years of his life. The Trust also cares for Nolan's extensive personal archive and collection of books. Over the past 12 months, a small team of volunteers have been focused on Nolan's personal archive, working alongside staff to accession, photograph and store objects and documents in archival quality materials. A digital database has been created so that the items can be easily searched and recalled which will make it much easier to present items in exhibitions and displays.
Now that Nolan's personal archive is largely complete, the Trust is seeking additional volunteers as it embarks on a major project to assess, accession, and digitise its collection of paintings and works on paper.
Antony Mottershead, the Trust's Creative Producer commented: "Our volunteers have made a huge contribution to this project over the last 12 months, largely taking the project as their own. Each time we've opened a box it reveals another story or completes part of the Nolan jigsaw. The art collection is an even bigger task, and we are looking to bolster our volunteer numbers to help."
The project provides a unique opportunity to view, and handle works by one of the 20th centuries most prolific and celebrated modern artists and to develop skills in this area of collections management.
The volunteers usually work together on a Tuesday between 10am – 3pm. For more information, please contact Antony Mottershead, Creative Producer at info@sidneynolantrust.org or 01544260149
Digital Newsletter 10/01/23
Happy New Year from the Sidney Nolan Trust
Over the coming weeks, we will begin to announce the exhibitions, workshops and events taking place at The Rodd during the year ahead.
2023 Resident Artists
First up, we are delighted to reveal the two artists selected for our 2023 Resident Artist Programme. Artists Daisy Dixon and Kate Green will be in residence with The Trust for the next 12 months, with studio space at The Rodd, a small bursary, access to the Trust's collection and archives, and opportunities to present ideas and artworks to the public.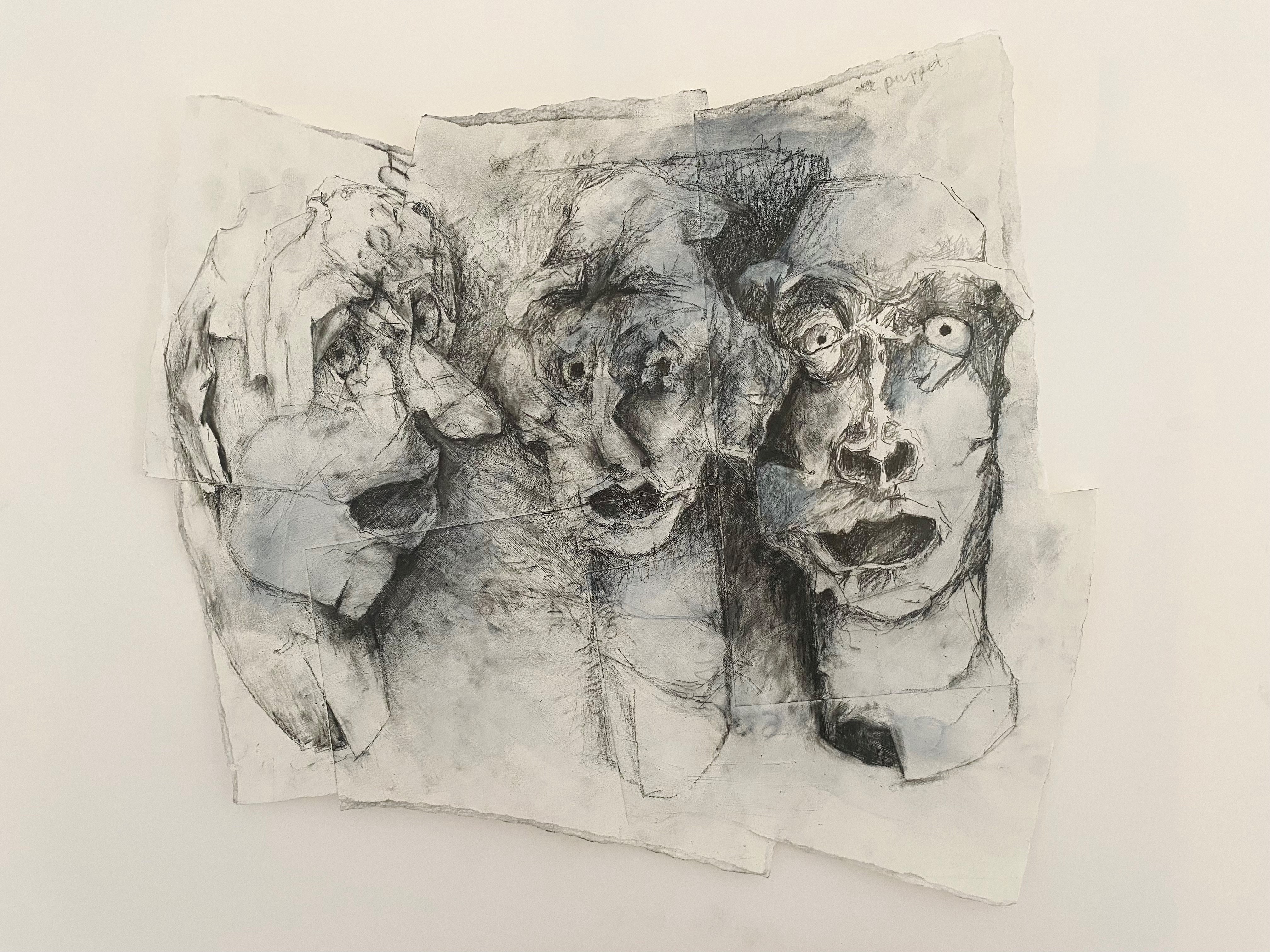 Untitled (Puppets), 2022, Daisy Dixon
Daisy Dixon
Daisy's work is currently focussed on drawing from different vistas of experience, revealing a fragmentary view of her journey. She recently undertook a two-week residency in the 15th century village of Agios Ioannis, Crete, where she made drawings of the 'residue of activity' found in the deserted houses and structures.
Daisy studied Fine Art at Bath Spa University and is currently undertaking an MA in Art Therapy at Chester University. She is Subject Leader of Photography and Teacher of Fine Art at Hereford Sixth Form College.
Follow her work @daisydixondrawing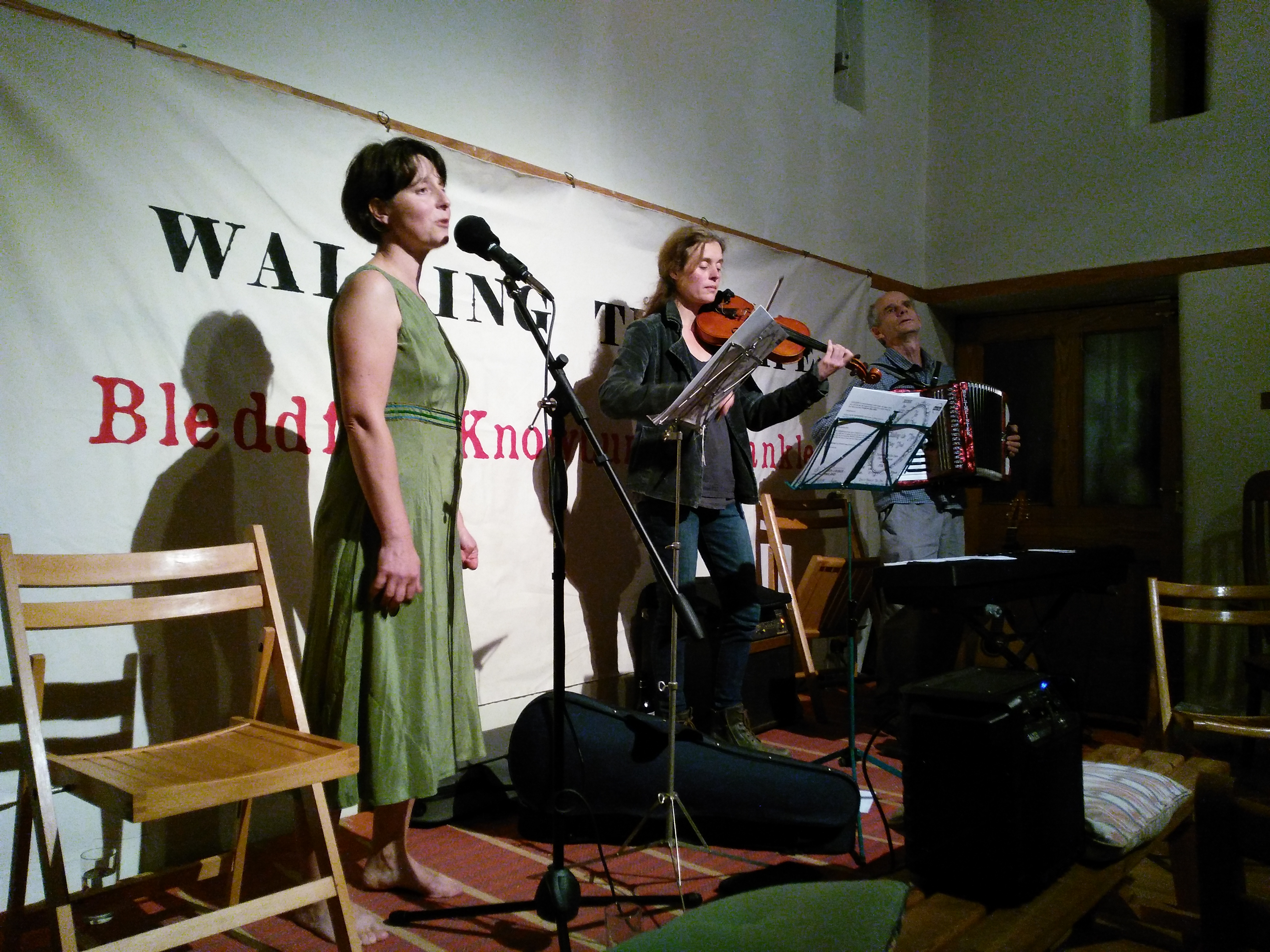 Walking the Pipe performance, Bleddfa Centre, Kate Green
Kate Green
Kate's projects offer an accessible bridge between artistic research and rural communities. Her unique blend of walking, wondering, and gentle humour present creative investigations by following innovative, interesting and entertaining ways.
Works include Mindwalks – a collaboration with Professor Anthony Collier adapting his landscape painting practice to the challenges of living with Motor neuron disease; Walking the Pipe – a community-led programme of walks, events and musical performance lectures sharing stories of the Elan Valley Aqueduct; and Finding a Way – live-streamed walks and outdoor experiences, accompanied by people who live with Dementia, to embrace the art of wandering.
Kate commented.
"I'm looking forward to strengthening my long relationship with The Rodd and excited to explore new landscapes – metaphorically and on foot."
Follow her work @shortladywithdarkhair
2023 is the third year of the Resident Artist Programme which is intended to provide a durational period of focus and support to artists. Previous participating artists include Jony Easterby, Faith Limbrick and Daniel MacCarthy.
Digital Newsletter 19/12/22
Season's greetings and 2022 highlights
The Sidney Nolan Trust wishes everyone a happy festive season and a creative year ahead.
2022 has been a successful and busy year for the Trust and we thought this was a good opportunity to briefly look back at the highlights of the past 12 months.
Our exhibition programme opened with The Peace of Wild Things by Daniel MacCarthy in our main Gallery following his 12-month residency with the Trust in 2021. In the Library of Rodd Court, we presented Nolan's experiments with polaroid photography drawing from our rich and varied photographic archive, which extends to over 30,000 images of Nolan's life and work. We also opened the season with new sculpture by Jim Carter, who created Of Black Shires. These significant animal works and soundscape adopt a liminal space and were made using organic material collected during visits to The Rodd and the nearby landscape. These works will travel full cycle this week when they are ritually burnt around the time of the Winter Solstice.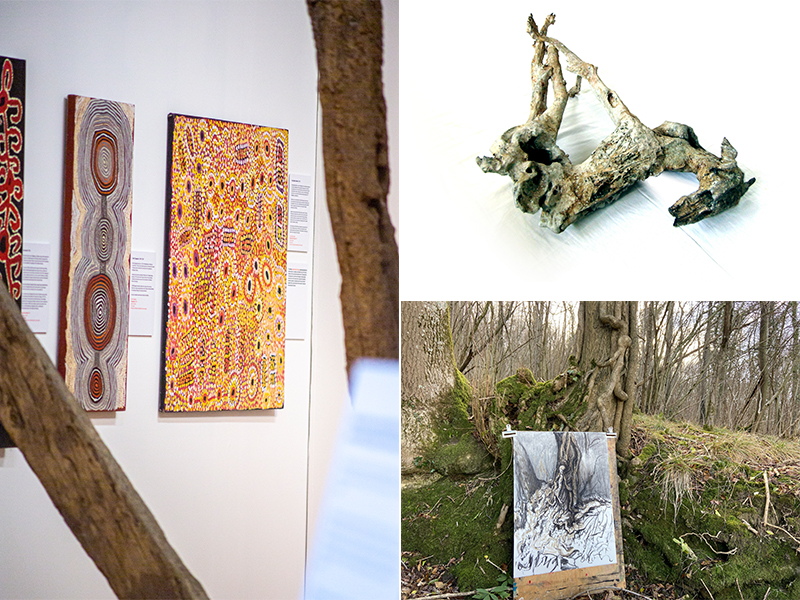 Images: Country Exhibition ©Adam Stevens, Of Black Shires - ©Jim Carter, Drawing in Rodd Wood ©Fiona McIntyre
In May Fiona McIntyre presented a new body of work, Dreaming the Land, in the Library of Rodd Court. This followed a series of mini-residencies at The Rodd where Fiona spent the short winter days drawing at the river or in Rodd Woods, as well as within Rodd Court using the landscape and Nolan's archive as inspiration.
In the Gallery, we showed Nolan's Celtic Image series of works, displayed in the UK for the first time. These large spray paintings were created in 1987 shortly after Nolan's final visit to his ancestral home in the Burren. They highlight Nolan's lifelong fascination with ancient civilisations and cultures and reveal his return to abstraction during the last 10 years of his life at The Rodd.
We closed our season with the touring Mappa Marches exhibition featuring the work of 6 artists, 2 poets and an aerial filmmaker to celebrate the solace and magic of our Marches landscape, history and culture.
Alongside our exhibition programme, we have held several events and workshops for all ages including a really popular series of art workshops for children and our second successful Community Day in July.
Over the main summer period, we were delighted to welcome Kate Constantine and her family for a month-long residency to coincide with a major exhibition of aboriginal painting in our main Gallery, Country in partnership with Aboriginal Art UK. The exhibition featured work by over 20 indigenous Australian artists, many of whom have been significant in developing contemporary Aboriginal visual culture.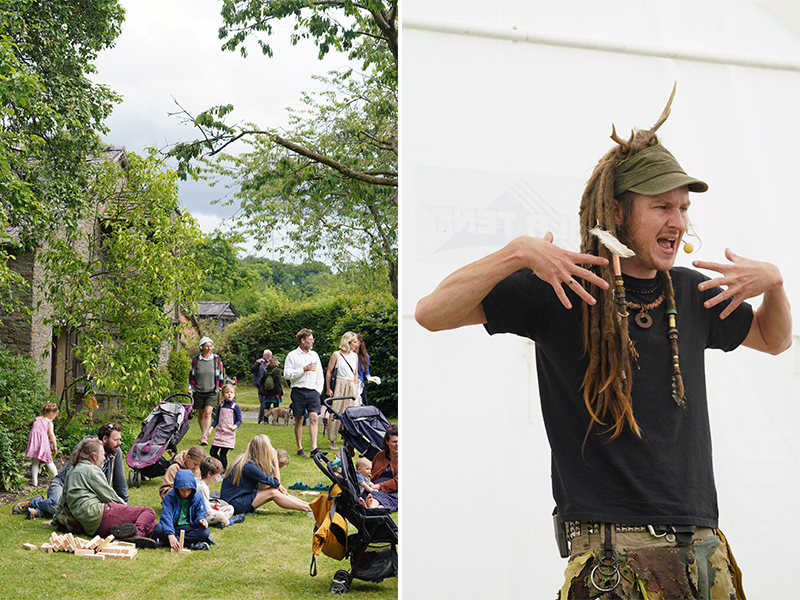 Images: 2022 Community Day ©Jony Easterby
In 2022 we awarded two 12-month residencies to Faith Limbrick and Jony Easterby and our whole team have enjoyed working alongside them. Faith was awarded a large DYCP grant from Arts Council England which has supported her to develop a range of new works and develop lasting relationships with artists and curators. Jony has experimented with plants, form and growth working independently as well as bringing together artist camps over the summer. This has included creating CHIT, 324 baking potatoes strung from a wooden frame, as an exploration into plant growth and the sprouting of seeds in search of light. It has been popular with visitors to The Rodd and continues to transform within the kitchen of Rodd Court.
Our learning programme has continued to develop, and we were pleased to receive further funding for Cultivate our youth programme and launch our new programme, MAKE for 10–14-year-olds. These sessions have enabled young people to explore contemporary arts and culture by meeting and working with professional artists, curators and creative producers. We've also developed new relationships with HCA Foundation and Hereford Sixth Form College.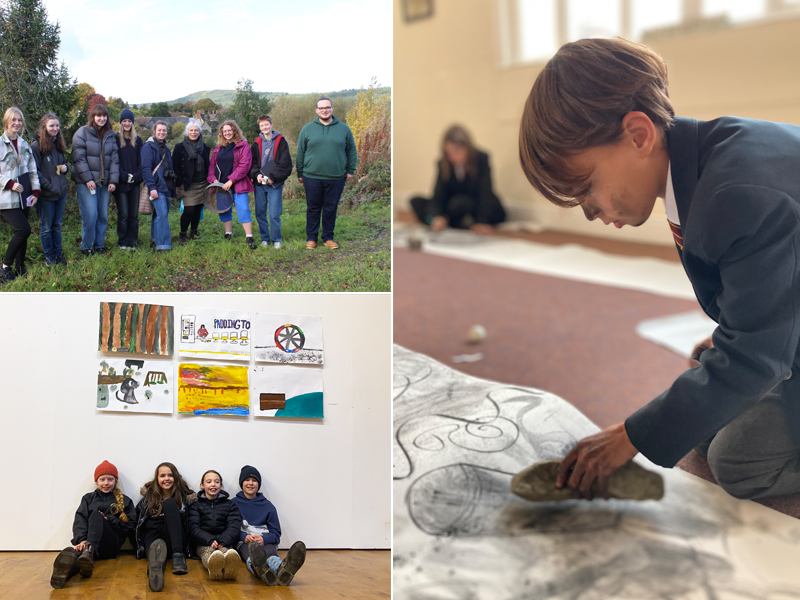 Images: MAKE and Cultivate learning programmes ©Sidney Nolan Trust
It just remains for us to say a huge thank you to all the artists, creative practitioners and partners we have had the pleasure of working with over the last year as well as our communities and audiences. We look forward to working with you again in the future and welcoming you back to The Rodd.
Please do stay in touch and keep an eye on our 2023 programme when it's announced in the New Year.
Best Wishes
Sidney Nolan Trust
Press Release 31/08/22
MAKE
Sidney Nolan Trust launches a second strand of creativity and making work for young people.
From Monday 19 September, a new weekly arts and creative club for 10 – 14 year olds, MAKE, will run weekly at The Old School Building (Youth Centre), Hereford Street, Presteigne. Young people will be able to get hands-on with a wide range of art making from painting and drawing to animation, photography and sculpture. The club is FREE to attend thanks to generous support from The Ashley Family Foundation. Set up by The Sidney Nolan Trust, MAKE extends the charity's work with young people.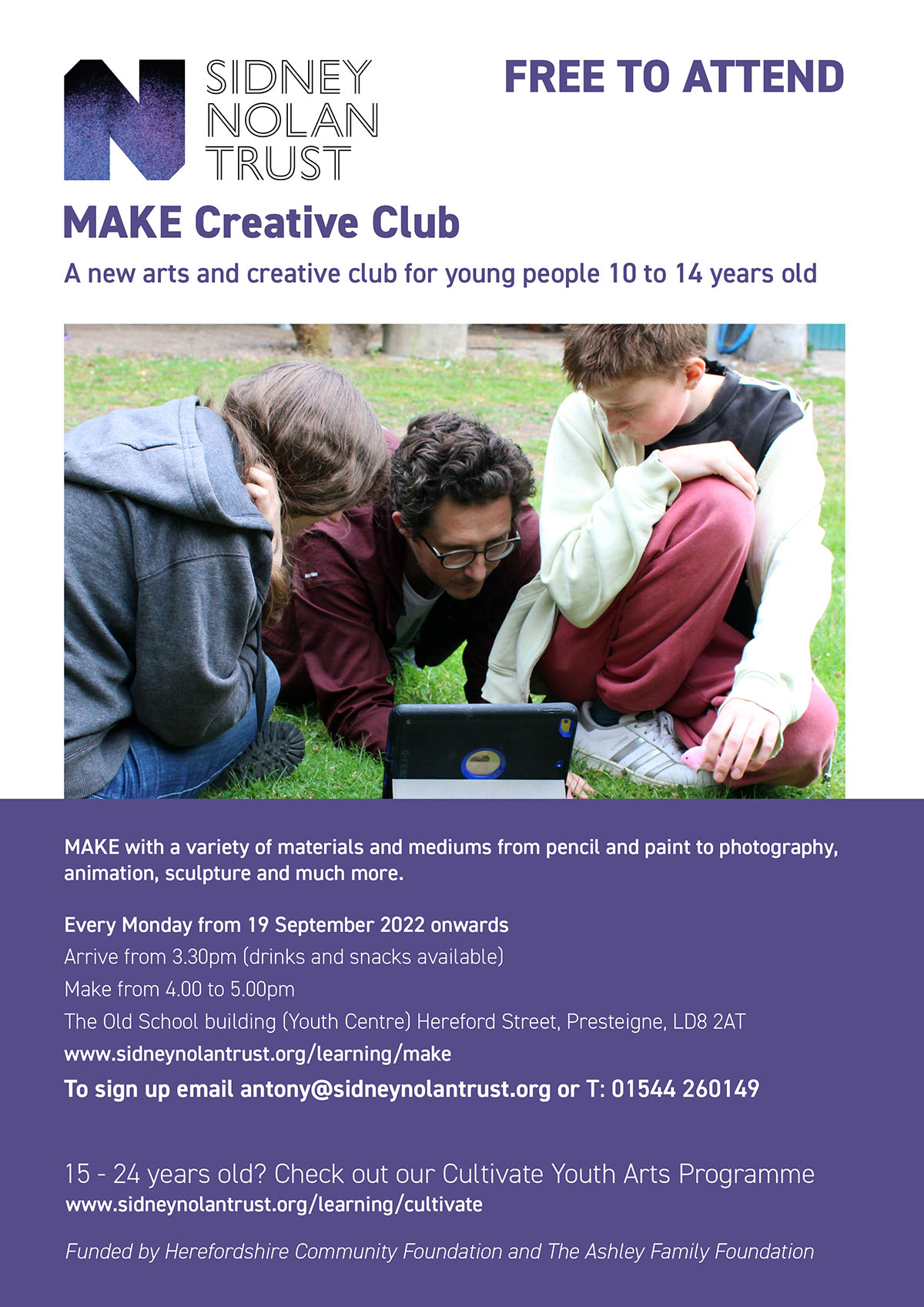 Antony Mottershead, the Sidney Nolan Trust's Creative Producer commented;
"Since developing our Cultivate programme for 15 – 25 year olds, we wanted to increase our work with young people locally and provide something for the younger ages. We are really looking forward to starting the club, and as with Cultivate, the club will emphasise lots of experimental and fun making.
Whilst most of the Trust's activities takes place at The Rodd, we realise that our rural location can be a barrier, particularly for young people, so we wanted to address this by running creative projects in the town of Presteigne."
This Autumn and Winter, MAKE participants will work with creative themes including scale and illumination and take inspiration from contemporary artists' work.
MAKE
Every Monday from 19 September 2022 onwards
Arrive from 3.30pm (drinks and snacks available)
Make from 4.00 to 5.00pm
The Old School (Youth Centre) Hereford Street, Presteigne, LD8 2AT
To find out more and to sign up please email antony@sidneynolantrust.org
Please visit www.sidneynolantrust.org/learning/make for full details.
Email: info@sidneynolantrust.org
Tel: 01544 260149
15 - 25 years old? Why not join us at Cultivate www.sidneynolantrust.org/learning/cultivate
Press Release 20/07/22
Ngawiya. Ngubadi (To Give With Love)
A major exhibition opening in Herefordshire provides a rare opportunity to enjoy and purchase artworks by some of the Aboriginal art movement's pioneering artists.
A major exhibition of original Aboriginal artworks is set to open to the public next week at the Sidney Nolan Trust, located nr. Presteigne. The exhibition will feature work by over twenty indigenous Australian artists, many significant in the development of contemporary Aboriginal visual culture.
Works by pioneering artists including Barbara Weir, Evelyn Pultara, Tuppy Goodwin and Morris Gibson Tjapaltjarri are on show, alongside new work by two emerging Aboriginal painters, Bristol-based Wiradjuri-British Jasmine Coe, and Gadigal artist Kate Constantine.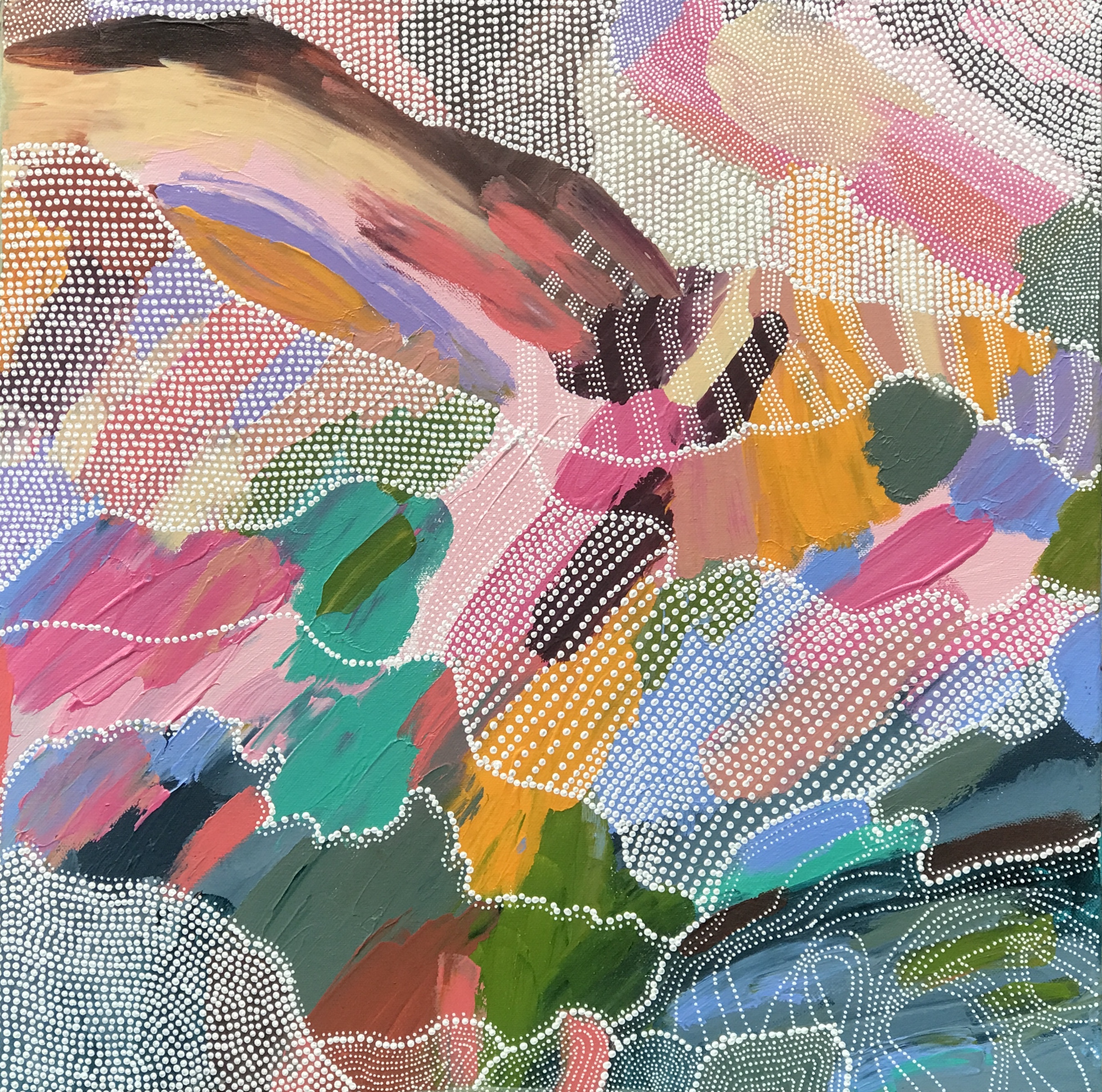 Antony Mottershead, the Sidney Nolan Trust's Creative Producer commented;
"I am so pleased that we are able to show such a fantastic exhibition of Aboriginal paintings here at The Rodd. Visitors from Herefordshire, the Marches and further afield will be able to see some of the finest examples of indigenous Australian art. Throughout Sidney Nolan's own career he was fascinated by Aboriginal culture. He made several important artworks and series that celebrate indigenous knowledge and also responded to the mistreatment and inequality perpetrated by white colonial settlers."
Kate Constantine will be artist-in-residence at the Trust for a four-week period during the exhibition, exploring the Trust's collection and Sidney Nolan's archive to develop a new body of work, as well as running workshops.
The exhibition is organised in partnership with Aboriginal Art UK, who specialise in the ethical purchase of artworks direct from aboriginal artists and artist communities. All of the artwork in the exhibition is available for purchase.
Sir Sidney Nolan, one of Australia's most famous modern artists, founded the Trust in 1985. Today the Trust cares for his former home and estate at The Rodd, a large collection of his artwork, photography and personal archive. The Trust hosts an exciting programme of exhibitions, events, learning activities, workshops and residencies.
Visitors to The Rodd can explore 17th century Rodd Court, the gardens and historic farm buildings, as well as Nolan's studio. A pop-up café serves tea, coffee and cake.
Exhibition Dates 21 July – 1 October 2022
Opening times, 11.00 – 16.00, Thursday – Saturday
Press Release 12/05/22
New exhibitions open 26 May
The former Herefordshire home of the famous Australian artist Sir Sidney Nolan opens its
two latest exhibitions on Thursday 26 May.
In Dreaming The Land, Fiona McIntyre expresses an imaged landscape inspired by a synergy
of objects and place. Through a series of successive mini-residencies, the painter,
draftsperson and printmaker has conjured a substantial and extraordinary body of new
artwork which is presented in the Library of 17th century Rodd Court.
McIntyre's art is underpinned by drawing. The artist spent short winter days engaged with
the immediate location and flora of The Rodd, drawing at the river or in Rodd Woods. If the
weather was too unkind, she retreated indoors to focus on strange and fantastical artefacts
such as an Elephant skull from Nolan's personal archive.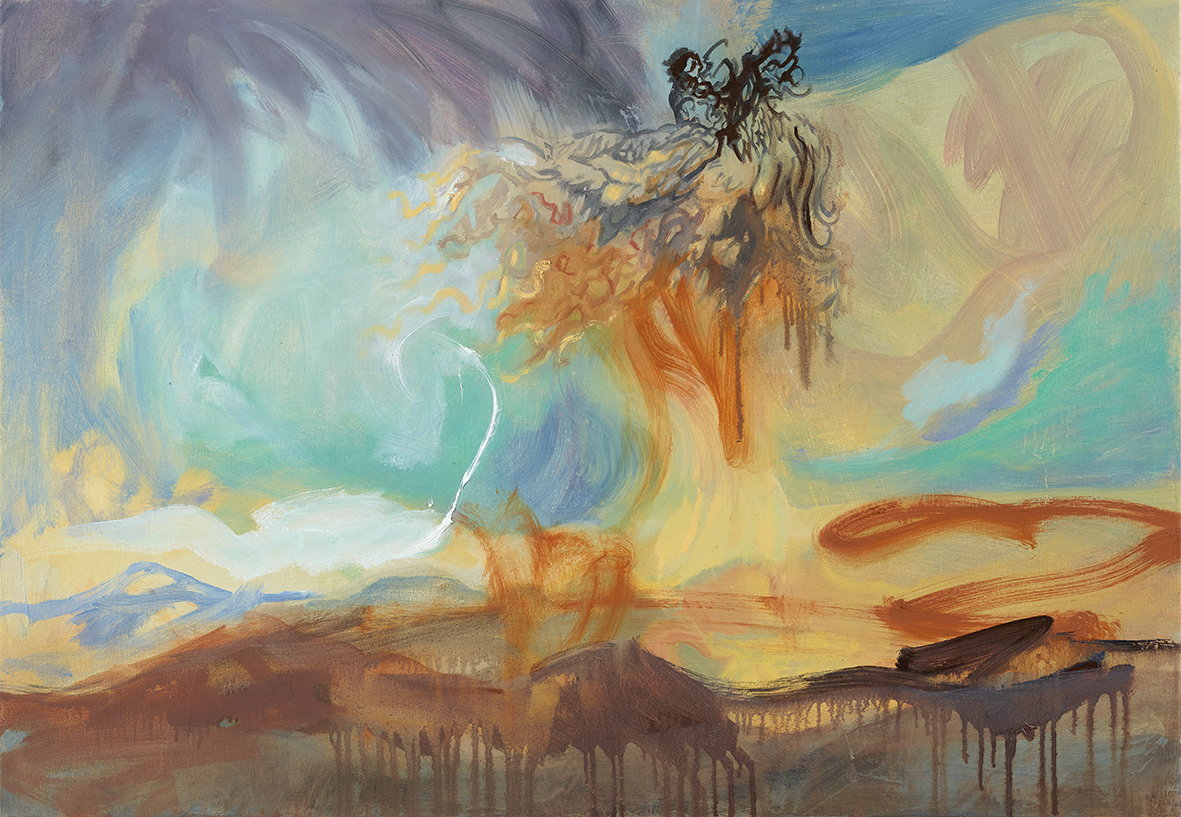 New paintings are infused with the dynamics of the weather and light in this border
hinterland and also with Nolan's unique vision - strange perspectives are at play. Alongside
drawings and paintings, the exhibition includes new etchings and wonderful examples of the
artist's sketchbooks which are an important part of McIntyre's making process.
In tandem with Dreaming The Land, a series of Sidney Nolan's late spray paintings known
collectively as the Celtic Image are shown in the main gallery. The large monochrome
canvases were created in 1987 following the artist's final visit to his ancestral home in the
Burren, County Cork, Ireland. A forth-generation Australian of Irish descent, Nolan wore his
'Irishness' as a badge of honour and used it to help shape an anti-establishment persona.
It is the first time the complete Celtic Image has ever been shown in the UK and the
exhibition investigates Nolan's lifelong fascination with ancient civilisations and cultures whilst
revealing his return to abstraction during the last ten years of his life at The Rodd.
Fiona McIntyre: Dreaming The Land, 26 May – 1 October 2022
Sidney Nolan: The Celtic Image, 26 May – 16 July 2022
Visitors to The Rodd can explore 17th century Rodd Court, the gardens and historic
farm buildings as well as Nolan's studio. A pop-up café serves tea, coffee and cake.
Opening times, 11.00 – 16.00, Thursday – Saturday.
Press Release 20/03/22
Exhibitions, workshops and events - 2022 season at The Rodd
The Sidney Nolan Trust is delighted to announce a wide-ranging series of exhibitions, events and workshops in 2022.
The former home of the famous Australian artist Sir Sidney Nolan opens to visitors from 31 March with two new exhibitions and new sculpture. The Peace Of Wild Things is a major solo exhibition by painter Daniel MacCarthy, the culmination of a year spent immersed in the natural surroundings of The Rodd as Resident Artist. The work which seeks to depict as well as enact a kind of communion with the natural world becomes in the act of making a place of refuge. But it is a natural world not idealised or made nostalgic in the manner of traditional landscape painting, but rather one in which uncomfortable realities seep in; a search for belonging, a sense of loss.
In the library of Rodd Court, we present Sidney Nolan's experiments with polaroid photography. Nolan, whose photographic archive extends to over 30,000 images of his life and work, adopted polaroid photography with the same zeal as he did with so many new materials and technologies. The exhibition reveals complex imagery through multiple exposures and still life studies.
We are also delighted to present new sculpture by artist Jim Carter. Carter, who is based near Ross-on-Wye, has created large animal works using organic materials collected during visits to The Rodd and walks in the near-by landscape. The installation titled Of Black Shires connects to a sense of deep time – the animals appear as ancestors, remains and traces from the black soil of deep, layered memory, material and identity and existing on the frontier of life and death.
Later in the year, the Trust has announced exhibitions by the artist Fiona McIntyre and a major show of aboriginal artworks from some of Australia's best known indigenous painters. For the second year, the Trust is organising a free community weekend of arts, music and storytelling which will take place on the 2&3 July.
Antony Mottershead the Trust's Creative Producer said: 'Through our 2022 programme we are pleased to continue our support for artists working locally and regionally but very much with an international quality and context. We also continue to reveal Nolan's wide-ranging and experimental arts practice through presentation of his photography and Celtic imagery.'
Visitors can enjoy a selection of Nolan's works from the Trust's collection within his former home, the 17th-century manor house Rodd Court and are able to explore the gardens and historic farm buildings. A pop-up café will serve tea, coffee and cake.
The Rodd will reopen on Friday 31 March and thereafter 11.00 – 16.00 Thursday – Saturday and Bank Holiday Mondays.
Press Release 31/01/22
Sidney Nolan Trust to host internationally acclaimed artist Heather Morison for free arts programme.
Sidney Nolan Trust have today announced the next date for their CULTIVATE arts programme,
where they'll welcome internationally acclaimed and Herefordshire-based artist Heather Morison of Studio Morison on Saturday 12th February at the Sidney Nolan Trust, Presteigne.
A free programme for young people aged 15 to 25, CULTIVATE is a new way for people interested
in art to meet other young creatives, generate new work and be led by highly acclaimed,
professional artists.
Morison, who now lives in Weobley, Herefordshire with her partner and co-creator Ivan Morison,
creates 'situationist' installations including their 'happening' in Bristol 'I lost her near Fantasy Island. Life will not be the same…' which depicted a jack-knifed lorry shed its load of 25,000 flowers
across Bristol City Centre. The Morison's were also part of the SK8 Skatepark, Weobley's new
skate park, which attracts skaters from far and wide who are enjoying the chance to experience the free design of the 'street plaza'.
On February 12th, Heather will present her practice and work with the Cultivate group on its recent
creative theme 'Illuminate', exploring bespoke 'architectural' structures as place-makers, 'holding
spaces' for people and how to draw humans into a space for congregation.
Dr Emma Posey, Artist Lead, Cultivate said,
"Cultivate offers young people in this predominantly rural region the opportunity to explore
contemporary culture by meeting and working with professional artists, curators and creative
producers. The group explores making and sharing art, utilising the natural surroundings and
facilities at Sidney Nolan Trust's wonderful 'home'.
Posey added,
"This opportunity is for any young person with creative curiosity, no previous experience or want to
become a professional artist is necessary. The cultural sector is made up of a wide range of
creatives with a myriad of skills. Cultivate is highly social and provides a unique forum for young
people to meet other like-minded people their own age. "
Learn more about CULTIVATE
Press Release 20/11/21
An exhibition of experimental making by the Sidney Nolan Trust youth arts programme
Young artists from Mid Wales and Herefordshire present an exhibition of new artworks within Sidney Nolan's former home.
Young people aged 15 to 25 who attend regular creative sessions at the Sidney Nolan Trust near Presteigne will present new artworks in the famous Australian artist's former home, 17th century Rodd Court.
The Cultivate Programme (www.sidneynolantrust.org/learning/cultivate) has been running since June 2021. It provides young people with an interest in the arts, a social space and opportunity to work with professional artists and makers to explore, discuss and question ideas. To date the young people have worked with Lal Davies - a community film-maker from North Wales, Stefhan Caddick - a visual and participatory artist from Crickhowell and Jony Easterby - an artist/producer from Machynlleth.

Through the exhibition, the young people present experimental artworks created over the past six months including image, sound, film, drawing and installations with microcontrollers and electronics. Two overarching themes have been used to structure the programme, the first was Input/Output and the second and current theme is Illuminate. The programme places a strong emphasis on making and this exhibition provides an opportunity for the young people to showcase the artwork made up to this point.
Saturday 11 December 5.30 – 7.00pm (MUSIC STARTS AT 6.15PM)
Sidney Nolan Trust, The Rodd, Presteigne, LD8 2LL
Free & Refreshments Available
Emma Posey, the project's lead artist and facilitator said;
"One of the opportunity barriers for young people living in rural Herefordshire and Mid Wales is a lack of easy access to making and experiencing art. At Cultivate, we're building a vibrant community of young people who can experiment, share and learn about art together."
The sessions are made possible through funding from Community Foundation Wales.
Press Release 02/10/21
State of Alarm – Mark Anderson & Jony Easterby
Following a two-week residency at The Sidney Nolan Trust, Presteigne, artists Mark Anderson and Jony Easterby will present State of Alarm, new outdoor artworks of sound, sculpture, video, light and fire in the gardens of The Rodd during the evenings of the 15 & 16 October 2021.
The artists will create work which responds to the 'state of alarm' ecologically, socially, and politically in the world today. Through the work they aim to tease out threads from this 'state', to pose questions, evoke emotions and to explore the contrast between beauty, hope and despair.
The residency will lead to the creation of new work and pick up on past streams of thought and investigation. The Rodd will become a place to experiment, collaborate and play, away from the artists' studio environment, and a space for the presentation of this new work.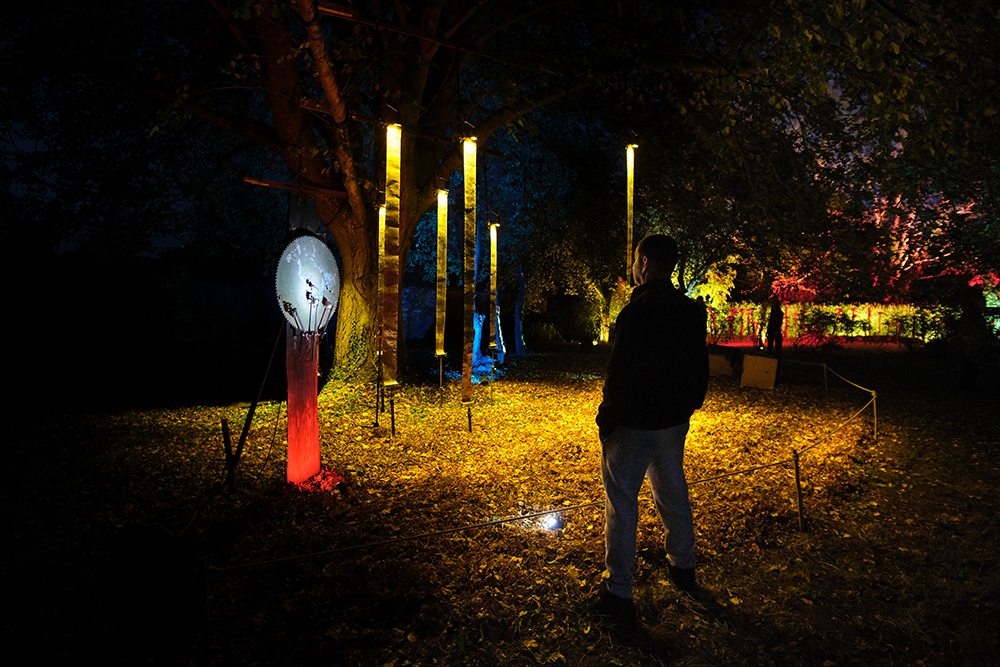 The performance of State of Alarm will take place in the gardens of Rodd Court, the Garde II* listed 17th-century Jacobean manor house, formerly the home of Australian modernist artist, Sir Sidney Nolan and his wife Lady Mary Nolan.
Mark Anderson is a visual sound artist, working almost exclusively outside. Drawing inspiration from the meeting point between the natural, industrial, and technological world, his work uses light sound and fire, to explore ideas and materials to create work with an almost childlike playfulness. https://mark-anderson.uk
Jony Easterby's artworks are informed by an empathy for the natural world and its sense of place within culture and social context. His wide range of artistic skills have found him developing projects as varied as the construction of intricate sound sculptures, audio visual installations and architectural constructions. https://www.jonyeasterby.co.uk
Mark and Jony both live and work in West Wales and will be joined by long-term collaborating artists Mathew Olden, Pippa Taylor, and Liam Walsh. These masters of reinvention have previously worked on spectacular world-touring outdoor arts productions, including Furious Folly, For the Birds, Powerplant and Tree and Wood.
The performance will run from 6.30pm on the evenings of Friday 15 & Saturday 16 October 2021. Entry is Free and refreshments will be available to purchase. Please wear clothing and footwear suitable for an outdoor performance.
Antony Mottershead, Creative Producer at The Sidney Nolan Trust said
"Mark and Jony's residency and collaboration exemplifies Nolan's vision for The Rodd, as a place where artists can come together to explore questions and ideas that are pertinent to the world today. The artists' diverse practice is also a reminder of Nolan's own interests in a wide variety of artistic outputs, material and technologies"
Press Release 01/08/21
Sidney Nolan: Colour of the Sky - Auschwitz Paintings
On 13 August 2021, the Sidney Nolan Trust will open its latest exhibition Sidney Nolan: Colour of the Sky - Auschwitz Paintings in the Trust's freshly updated gallery space.
During 1961/62 Sidney Nolan was focused on the holocaust, creating a significant number of paintings that are now held in collections including Tate & the Australian War Memorial. The exhibition will present over 30 works from the Trust's own collection, previously unseen photographs that Nolan took when visiting Auschwitz with the writer and poet Al Alvarez and other sources of reading on the holocaust drawn from Nolan's personal archive.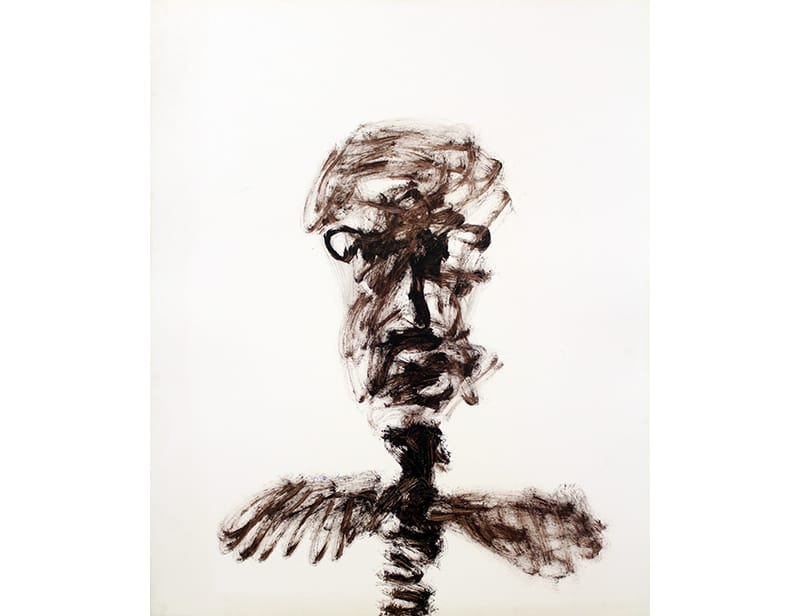 Nolan wrote:
"Whether I will do paintings? I am reluctant in a way to dig deeper into Europe but I do not see how the question of the camps can be forever shelved. Perhaps they will never be the material of art, it is impossible to tell. How can a disease be painted?"
Nolan had painted with reference to the camps as early as 1944 but this later body of work appears to have been prompted by the public trial of Adolf Eichmann, the Nazi responsible for the deportation of Jews from across Europe. Following Eichmann's sentencing, Nolan switched from portraits of him to dozens of paintings of camp prisoners, to increasingly skeletal figures, as well as smoking crucifix.
In typical Nolan fashion he painted with great intensity, his style allowing him to quickly generate hundreds of works on paper, often tens of dozens created in a single sitting, each a subtle yet entirely purposeful variation on the last.
Most interestingly perhaps, all these works were made before Nolan even visited Auschwitz. Evidence suggests that the experience had a profound impact on him. He did not return to the subject for several years but later collaborated with Benjamin Britten on his coral work titled Children's Crusade.
13 August - 26 September, The Rodd, Presteigne
Press Release 01/05/21
Sidney Nolan - Polaroids
Informality and Sidney Nolan Trust are excited to announce the first-ever exhibition of Sidney Nolan's polaroid photography at Informality, Henley on Thames. Nolan's polaroid's which have never been in the eye of the public will show alongside a selection of paintings by the artist on loan from the Trust and private collections.
Sir Sidney Robert Nolan was one of Australia's leading artists of the 20th century and is most known for his iconic paintings depicting Australian bushranger and outlaw, Ned Kelly and his armour.
During the 1970s and 80s the polaroid became Nolan's favoured format. The polaroid was a new, instant way of recording time which provided Nolan a useful mechanism to objectively record and critique his painting whilst also becoming a playful medium through which he began to construct candid yet intricate compositions.
Nolan, a fabled storyteller, explored more than just the recording of an image, instead he used the medium as a way of artistic expression, creating scenarios and exploring multiple exposure techniques.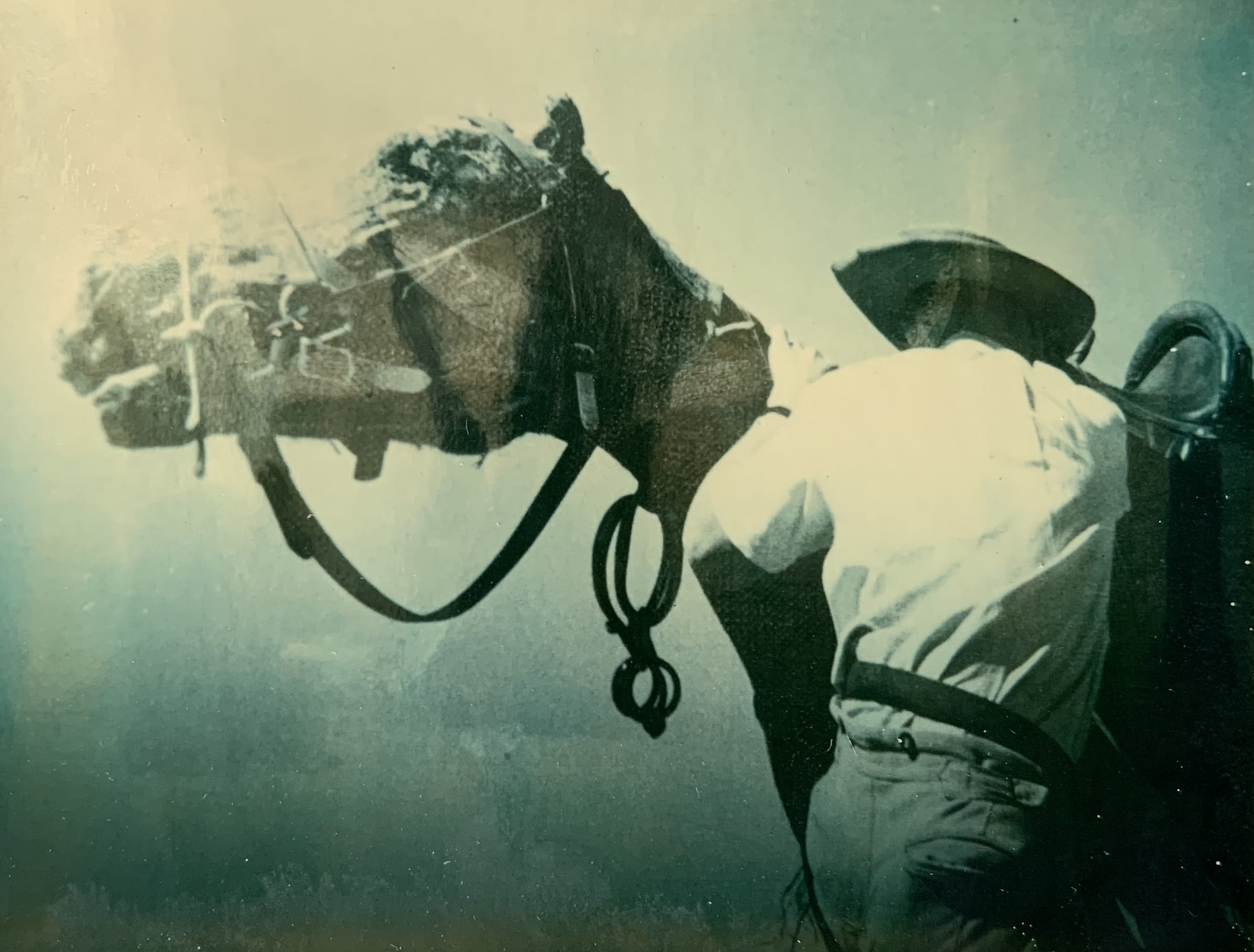 A fine example in the exhibition, shot in (year), is an image of Picasso's Guernica superimposed with one of Nolan's earlier images from the 1940s, a staged photograph of a rider mounting an animal carcass that Nolan encountered in the Australian desert during a drought. Enter right, a child's toy figure crosses the image on a miniature easy rider motorcycle. Other examples hint to the gentle nature of the man, of quiet observation. The artist's hand, full-frame, holding a beautiful small bird, either stunned or dead.
Where Nolan turns the camera on himself, something which dominates his polaroid photographs from the mid-seventies when his second wife Cynthia committed suicide, the results are much more disturbing. These flash-fuelled self-portraits render Nolan as a ghostly, transparent figure. In some, his face appears searching, in others, the crazed expressions look more like the camera has been handed to a sinister fictional character.
The exhibition comes at an important time, as The Sidney Nolan Trust recently began the task of sorting, listing, and conserving some of the 25,000 plus photographs believed to exist in the Trust's archive. The photographs consisting of prints, negatives, transparencies, slides, and film reel, trace the artist's extensive travelling career, from early photographs of Heide and the Reeds, through some of his most ambitious exhibitions, to private family moments. It is hoped that in the future his photographic archive will be made available to the public and to inform research.
Press Release 23/04/21
Reopening 21 May
On 21 May 2021, the Sidney Nolan Trust will reopen The Rodd for the first time since the start of the pandemic and will do so with two new exhibitions and outdoor sculpture to delight visitors.
The freshly updated gallery space within our 17th-century barn hosts Nolan à l'Atelier 17. The exhibition brings together fresh research focusing on Sidney Nolan's time in Paris working with the legendary English Printmaker Stanley William Hayter. In Paris, a cauldron of mid-century modernism, Nolan sought inspiration and created several plates which until now remained largely unknown.
These etching experiments are presented alongside several magnificent works by leading surrealists of the day including Hector Saunier, Agatha Sorrel, and Hayter himself. The exhibition further includes a wonderful example of a rare star wheel etching press, synonymous with the famous Paris studio, kindly on loan from the Royal Engravers.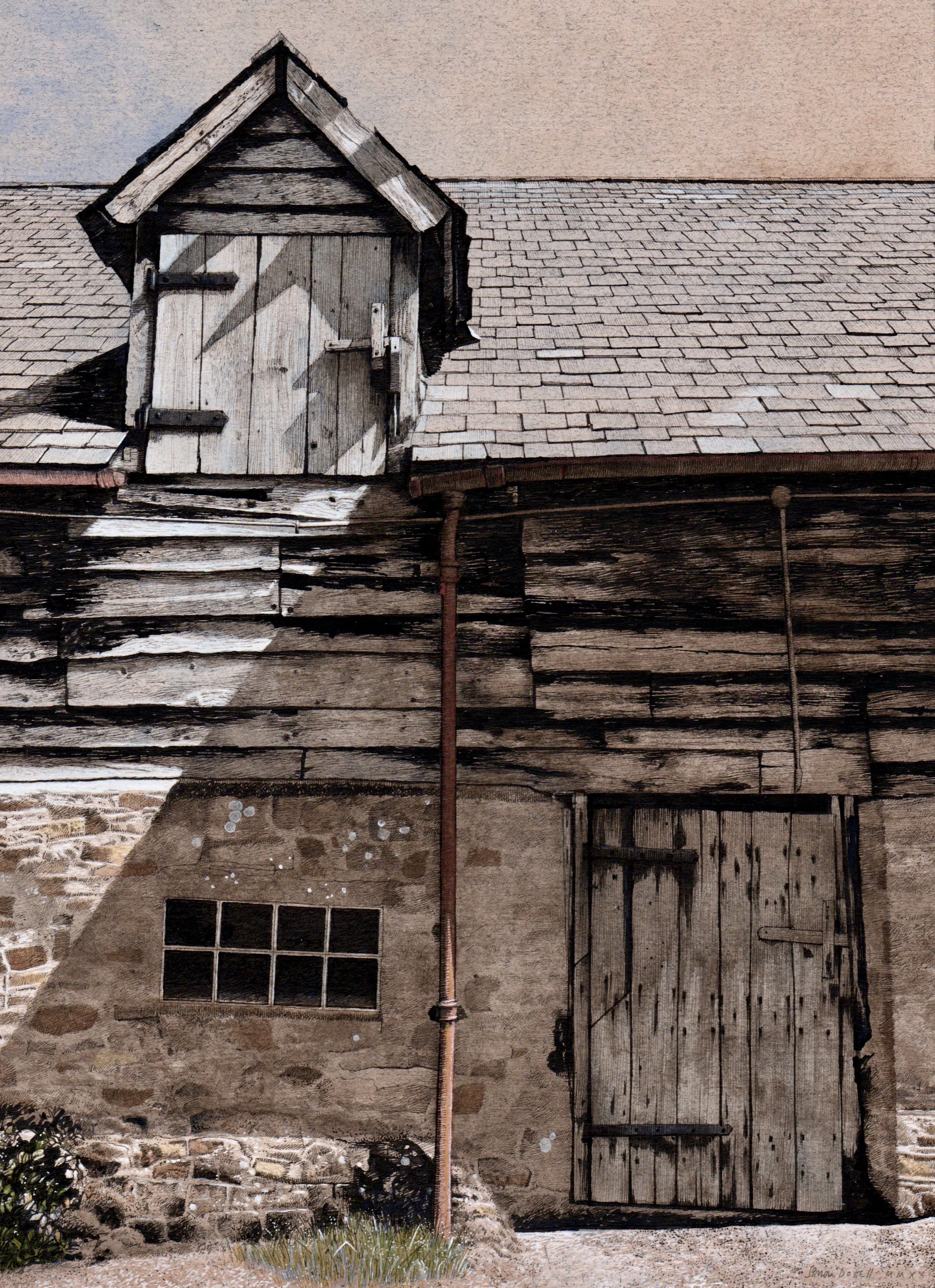 At the same time, the library of Rodd Court, also beautifully refurbished during the closure period, introduces new paintings by Simon Dorrell. Jackdaws For Company is the result of Dorrell's solitary ramblings at The Rodd during lockdown. Twenty ink and gouache paintings render the house and historic farm buildings in intricate detail, presenting a unique record of The Rodd resting dormant. Dorrell's paintings and a new limited edition of one of Nolan's etchings are for sale.
Visitors are encouraged to extend their visit by enjoying a selection of Nolan's works from the Trust's collection within his former home, the 17th-century manor house Rodd Court, and will encounter sculpture by Daniel Pryde-Jarman when exploring the gardens and historic farm buildings. For the first time, visitors will also be able to enjoy light refreshments.
Anna Brennand the Trust's new Director said: 'Everyone at the Trust is very much looking forward to welcoming visitors back to The Rodd and we are delighted to present two vibrant exhibitions within our historic properties and sculpture in the grounds'.
The Rodd will reopen on Friday 21 May and thereafter 11.00 – 16.00 Friday – Sunday and Bank Holiday Mondays.