News
The latest news and updates from The Sidney Nolan Trust, including our latest press releases and announcements.
Press Release 01/08/21
Sidney Nolan: Colour of the Sky - Auschwitz Paintings
On 13 August 2021, the Sidney Nolan Trust will open its latest exhibition Sidney Nolan: Colour of the Sky - Auschwitz Paintings in the Trust's freshly updated gallery space.
During 1961/62 Sidney Nolan was focused on the holocaust, creating a significant number of paintings that are now held in collections including Tate & the Australian War Memorial. The exhibition will present over 30 works from the Trust's own collection, previously unseen photographs that Nolan took when visiting Auschwitz with the writer and poet Al Alvarez and other sources of reading on the holocaust drawn from Nolan's personal archive.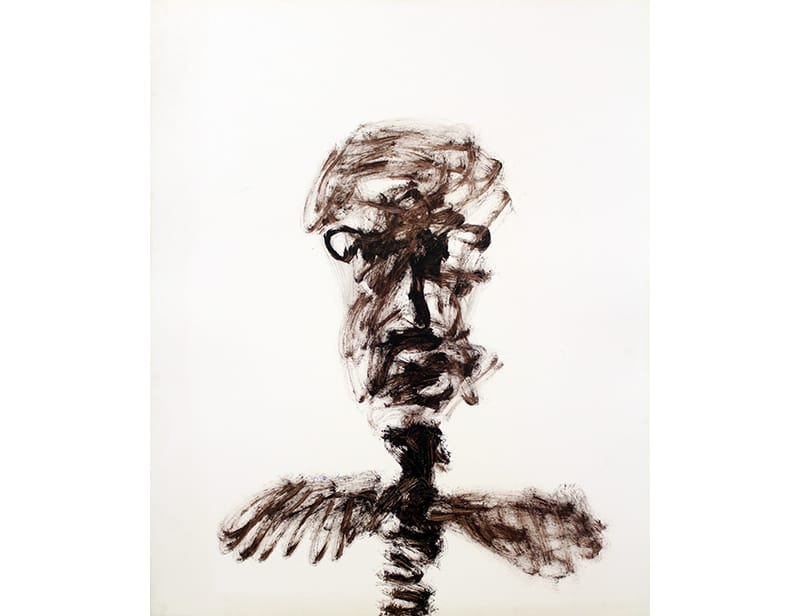 Nolan wrote:
"Whether I will do paintings? I am reluctant in a way to dig deeper into Europe but I do not see how the question of the camps can be forever shelved. Perhaps they will never be the material of art, it is impossible to tell. How can a disease be painted?"
Nolan had painted with reference to the camps as early as 1944 but this later body of work appears to have been prompted by the public trial of Adolf Eichmann, the Nazi responsible for the deportation of Jews from across Europe. Following Eichmann's sentencing, Nolan switched from portraits of him to dozens of paintings of camp prisoners, to increasingly skeletal figures, as well as smoking crucifix.
In typical Nolan fashion he painted with great intensity, his style allowing him to quickly generate hundreds of works on paper, often tens of dozens created in a single sitting, each a subtle yet entirely purposeful variation on the last.
Most interestingly perhaps, all these works were made before Nolan even visited Auschwitz. Evidence suggests that the experience had a profound impact on him. He did not return to the subject for several years but later collaborated with Benjamin Britten on his coral work titled Children's Crusade.
13 August - 26 September, The Rodd, Presteigne
Press Release 01/05/21
Sidney Nolan - Polaroids
Informality and Sidney Nolan Trust are excited to announce the first-ever exhibition of Sidney Nolan's polaroid photography at Informality, Henley on Thames. Nolan's polaroid's which have never been in the eye of the public will show alongside a selection of paintings by the artist on loan from the Trust and private collections.
Sir Sidney Robert Nolan was one of Australia's leading artists of the 20th century and is most known for his iconic paintings depicting Australian bushranger and outlaw, Ned Kelly and his armour.
During the 1970s and 80s the polaroid became Nolan's favoured format. The polaroid was a new, instant way of recording time which provided Nolan a useful mechanism to objectively record and critique his painting whilst also becoming a playful medium through which he began to construct candid yet intricate compositions.
Nolan, a fabled storyteller, explored more than just the recording of an image, instead he used the medium as a way of artistic expression, creating scenarios and exploring multiple exposure techniques.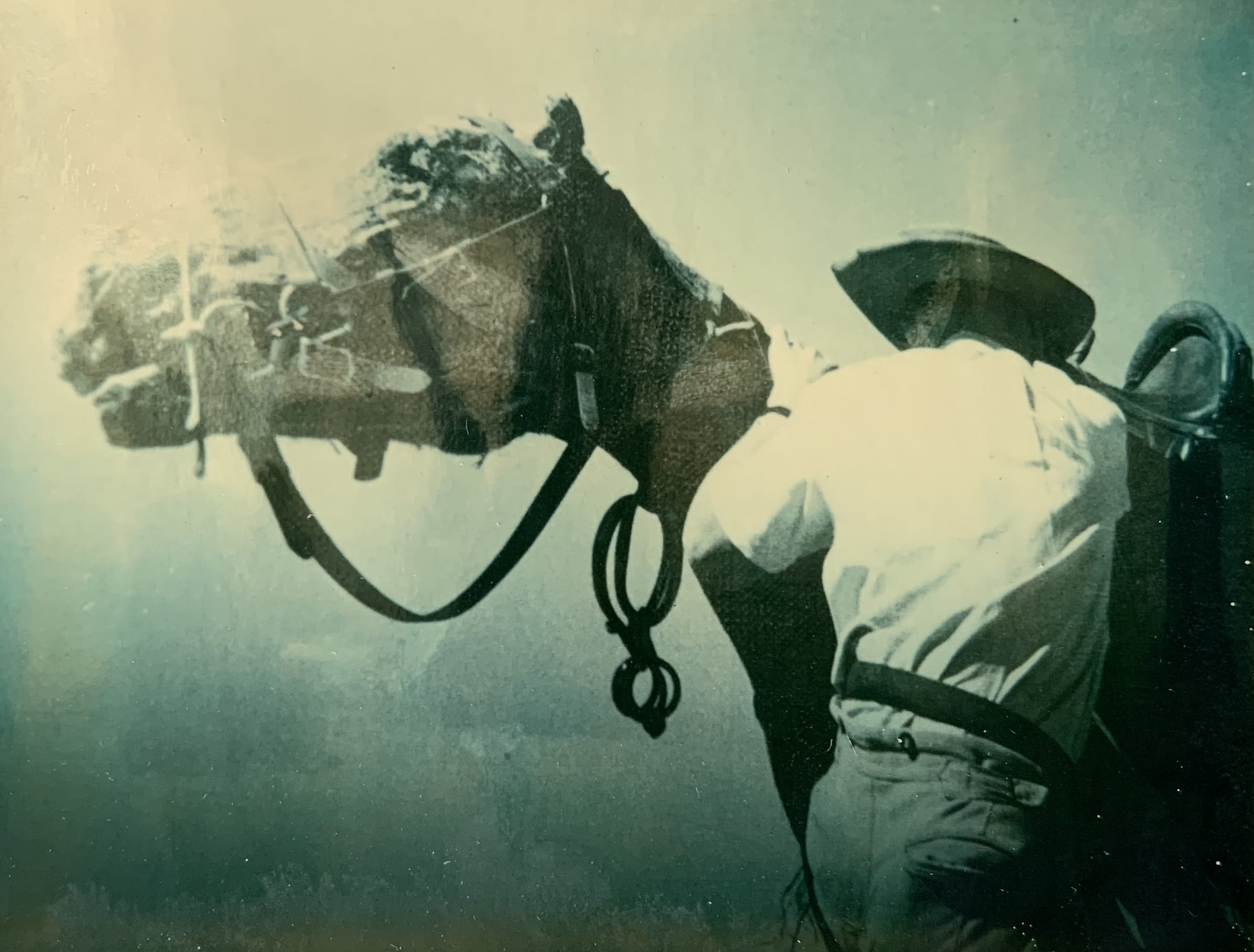 A fine example in the exhibition, shot in (year), is an image of Picasso's Guernica superimposed with one of Nolan's earlier images from the 1940s, a staged photograph of a rider mounting an animal carcass that Nolan encountered in the Australian desert during a drought. Enter right, a child's toy figure crosses the image on a miniature easy rider motorcycle. Other examples hint to the gentle nature of the man, of quiet observation. The artist's hand, full-frame, holding a beautiful small bird, either stunned or dead.
Where Nolan turns the camera on himself, something which dominates his polaroid photographs from the mid-seventies when his second wife Cynthia committed suicide, the results are much more disturbing. These flash-fuelled self-portraits render Nolan as a ghostly, transparent figure. In some, his face appears searching, in others, the crazed expressions look more like the camera has been handed to a sinister fictional character.
The exhibition comes at an important time, as The Sidney Nolan Trust recently began the task of sorting, listing, and conserving some of the 25,000 plus photographs believed to exist in the Trust's archive. The photographs consisting of prints, negatives, transparencies, slides, and film reel, trace the artist's extensive travelling career, from early photographs of Heide and the Reeds, through some of his most ambitious exhibitions, to private family moments. It is hoped that in the future his photographic archive will be made available to the public and to inform research.
Press Release 23/04/21
Reopening 21 May
On 21 May 2021, the Sidney Nolan Trust will reopen The Rodd for the first time since the start of the pandemic and will do so with two new exhibitions and outdoor sculpture to delight visitors.
The freshly updated gallery space within our 17th-century barn hosts Nolan à l'Atelier 17. The exhibition brings together fresh research focusing on Sidney Nolan's time in Paris working with the legendary English Printmaker Stanley William Hayter. In Paris, a cauldron of mid-century modernism, Nolan sought inspiration and created several plates which until now remained largely unknown.
These etching experiments are presented alongside several magnificent works by leading surrealists of the day including Hector Saunier, Agatha Sorrel, and Hayter himself. The exhibition further includes a wonderful example of a rare star wheel etching press, synonymous with the famous Paris studio, kindly on loan from the Royal Engravers.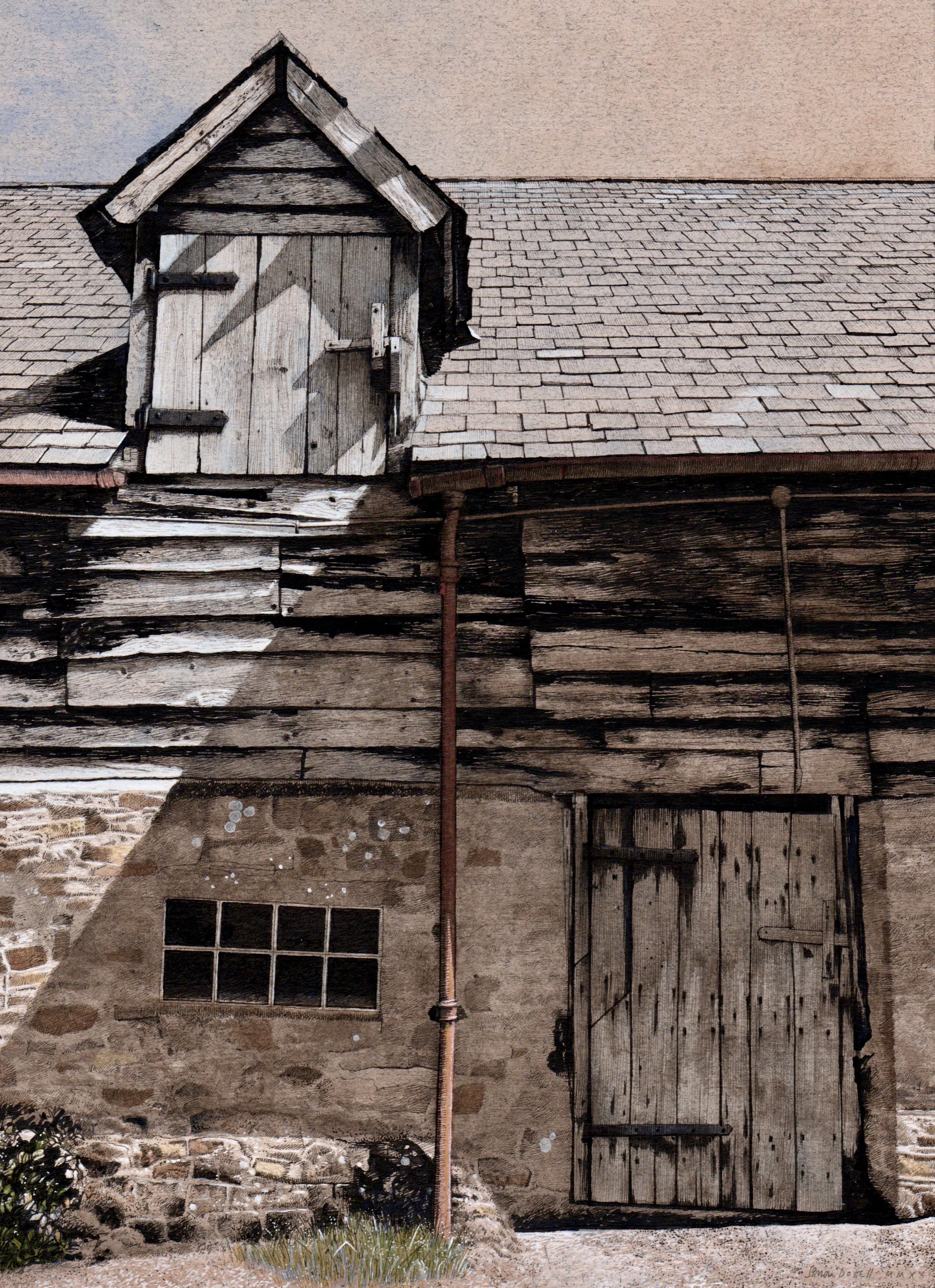 At the same time, the library of Rodd Court, also beautifully refurbished during the closure period, introduces new paintings by Simon Dorrell. Jackdaws For Company is the result of Dorrell's solitary ramblings at The Rodd during lockdown. Twenty ink and gouache paintings render the house and historic farm buildings in intricate detail, presenting a unique record of The Rodd resting dormant. Dorrell's paintings and a new limited edition of one of Nolan's etchings are for sale.
Visitors are encouraged to extend their visit by enjoying a selection of Nolan's works from the Trust's collection within his former home, the 17th-century manor house Rodd Court, and will encounter sculpture by Daniel Pryde-Jarman when exploring the gardens and historic farm buildings. For the first time, visitors will also be able to enjoy light refreshments.
Anna Brennand the Trust's new Director said: 'Everyone at the Trust is very much looking forward to welcoming visitors back to The Rodd and we are delighted to present two vibrant exhibitions within our historic properties and sculpture in the grounds'.
The Rodd will reopen on Friday 21 May and thereafter 11.00 – 16.00 Friday – Sunday and Bank Holiday Mondays.